We've ventured the roads of Sweden twice: From Sweden's southernmost point Trelleborg to the Norwegian border. Based on our two trips, we compiled an itinerary and, in this post, we will share our easy Sweden road trip itinerary with you. It combines the best of the best we've encountered on both trips: great hiking trails and kayaking routes, best campsites for wild camping and cosy vacation rentals.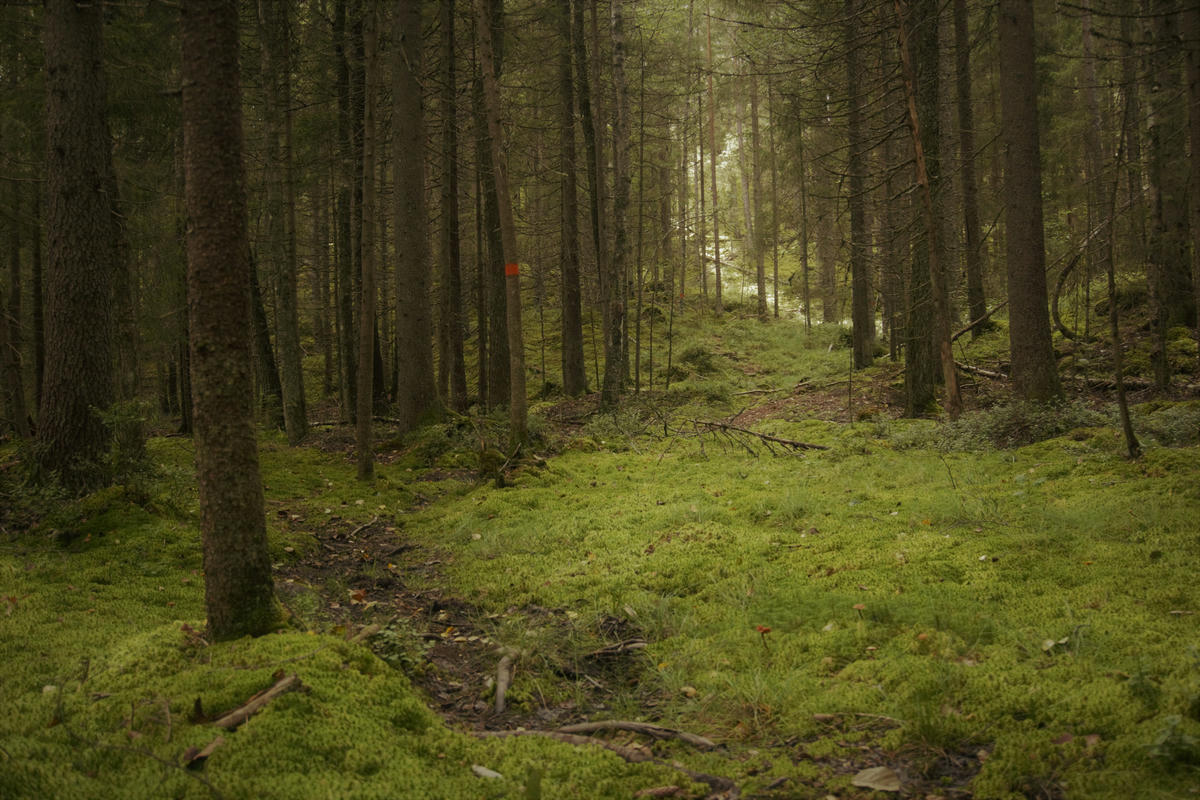 From reading our blog, you may already know that we are fond of beautiful landscapes, deep green woods, going off the beaten path and away from the crowds, outdoor sports, minimalistic and sustainable architecture that fits perfectly into the surrounding landscape, - and we could find all that in Sweden!
Malmö
Stay in Malmö for a day before you leave the big towns for the beautiful forests of Sweden. What we loved about Malmö is its urban space and its numerous museums – you can visit them for free. Our tip: Malmö Design Museum is a must for all the design lovers.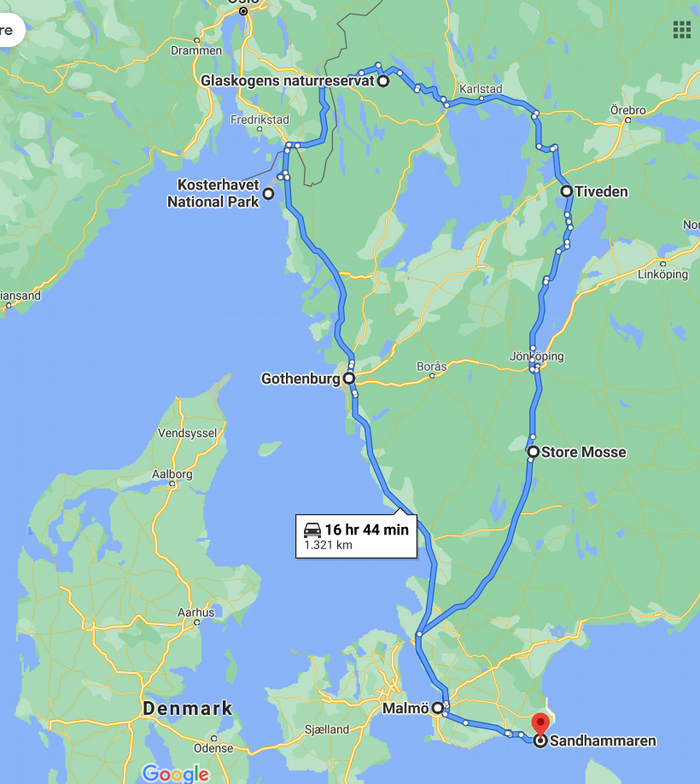 Store Mosse
On your way north, stop briefly at the Store Mosse National Park – a lake surrounded by a huge swamp. The best time to go there should be fall – the moss of the swamp turns into red, orange and yellow and there is no shortage of water. The park is not big – plan a day or two.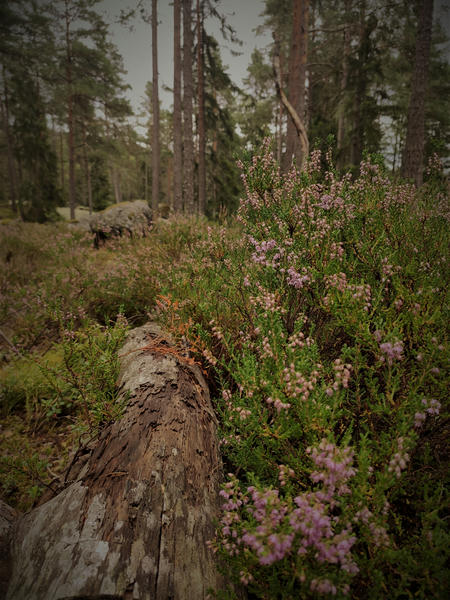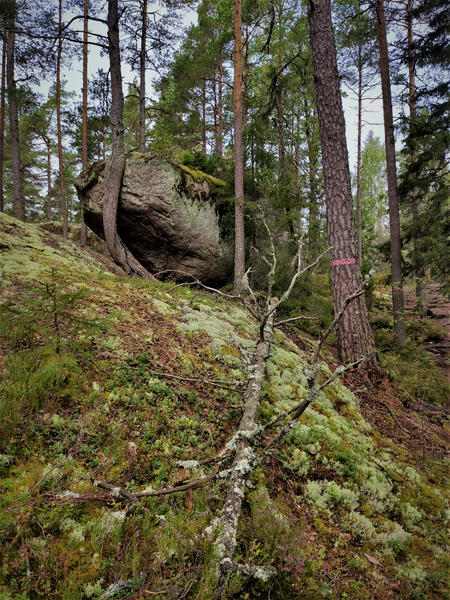 Tiveden
For some excellent hikes in the dense pine forest covered in moss, go to Tiveden. Located between two big lakes, it gets a considerable amount of rainfall – that may explain the greenness of this little hikers' paradise. There are several loop routes you may trek, day-long and several-hours-long hikes. You can also combine the trails and customize to make your perfect trail. You may also go horse trekking or rent a kayak here. Plan at least several days to explore the park even when it is not a large one.
Trails may get a bit full in the morning hours, so our tip would be to start your hikes late in the afternoon. On long summer days, you will have plenty of time before the sun goes down.
Glaskogen
Those of you who would like to go off the beaten track should head to Glaskogen National Park. Even though the Gla Forest is situated only slightly more than 100 km from Oslo and Gothenburg, you are not likely to meet may travellers here, at least way less people than in Tiveden. You are sure to appreciate the hikes of Glaskogen National Park leading through the fields of heather, green swamps, a number of scenic small and large lakes, and even some tiny waterfalls.
Occupying the territory of ca 20 square miles, it offers a vast network of hiking routes. You may either go on a multiple-day long hike and sleep at one of the beautifully-located wind shelters (for information on booking them check the Glaskogen website) or custom-make small day hikes.
There are ca 80 lakes to paddle on – and you may rent a canoe at a visitors' centre.
72-hour house
If you want to have an experience of being close to nature but you are not eager to sleep in a tent or a simplistic wind shelter, a 72-hour house may be just right for you. The walls of the 72-hour house are made of glass – so that you develop a connection with the surrounding forest and water, clear up your mind and do away with accumulated stress 😊. Studies on the 72-hour house project proved that 3 days of staying in a glass wall house has a positive effect on your mental health.
3-days kayaking trip
Since there are so many lakes and quite a few large ones among them, you will be spoiled for water hiking options. There are even some options that allow you to go in a circle. For instance a 3 day kayaking trip from Bengtsfors to Lennartsfors is an option that just might be for you. Be aware that the larger lakes may have quite strong winds and noticeable waves – so you may want to stay close to the sheltered shore.
Kosterhavet National Park to the north of Gothenburg
A beautiful landscape of water and land, Kosterhavet National Park is great place if you want to go diving and explore the sea life in the cold waters. But even if diving at this altitude is nothing you could fancy, you will certainly love the scenic coastline.
If you are missing the benefits of the urban life already, stay in Gothenburg – the second largest town in Sweden - for a day or two.
Sandhammaren Beach (near Trelleborg)
End your Sweden road trip on sandy beaches of Sandhammaren, close to Ystad and Malmö. Hike along the seashore and the sandy dunes or just chill and lay in the sun and let your feet recover from the long hikes.
The Sweden road trip itinerary we suggest in this post could be expanded with a trip to Norway: in this post, we suggest an itinerary you may use in order to see the best of Norway: fjords, scenic roads, glaciers, atmospheric Norwegian summer houses, free roaming sheep and prehistoric furry cows 😊