We have spent 2 winters in Andalusia, aiming to explore every part of it from marvelous Seville and Granada over laid-back surfer beaches of the Atlantic coast to the lesser known and peaceful green slopes of Sierra de Huelva. In this itinerary we will share the best of it.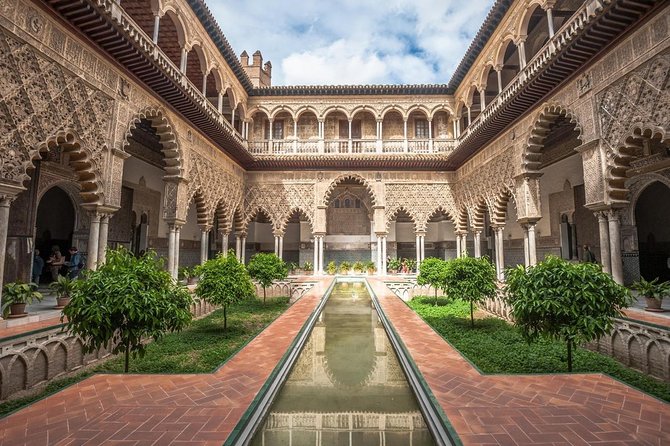 Part One: Seville
Seville would be a great introduction to Andalusia and the best place to start your trip. The old town is extremely beautiful – cross it at least once from top to bottom and from East to West following one of the narrow streets and when you reach the end of the old town, dive into another street and walk back. Old facades, shaded patios, heavy and old wooden doors give the town its unique character.
Have a drink and some tapas in one of the innumerable bars, cafés and restaurants. Locals seem to pop in for a drink or a quick coffee on their way back home from work or while walking their dog. Nowhere else do bars and cafés look so inviting)
Chill in one of the numerous cosy squares in the shade of some orange trees.
There is a long promenade on both sides of the Guadalquivir River with several piers. It is the perfect place to chill in the sun in December or February.
Seville is also a great base for exploring nearby places worthy of a visit:
White villages and the scenic coastline of Doñana National Park
Doñana has one of the most amazing coastlines in Spain: miles of sand cliffs and pine forests with no man-made buildings in sight. Just pure nature. To get to the coast, we believe, it would be best to rent a car. It will take you 40 minutes – 1 hour to get there. If you prefer to get there by bus, there is one leaving from Seville heading to Matalascañas.

White villages of Andalucia, scenically located on the green slopes of the mountain ranges that surround Seville are a must see for village lovers (like us). There are lots of scenic villages, you will need years to visit them all. You may go to the north of the town in the Sierra Norte, see Constantina, then follow the trails that run among spectacular rock formations in Cerro de Hierro. You will need approximately 1.30 hour to drive here from Seville.
Better known and visited are villages to the South-East of Seville. Ronda has a spectacular bridge and breath-taking gorge; however, it is quite busy – not a small and sleepy village at all. We loved smaller villages like Gazalema, Ubrique or Zahara de la Sierra. There is also a number of walking trails in the region.
Part Two: Granada
Another spectacular town of Andalusia – and maybe one of the most beautiful towns we have ever seen – is Granada. Its facades are mostly white and less decorated than the facades of Seville, however, the streets are winding up and down the hills, offering you great photo motives and scenic views. From many places of the town, you get to see the medieval fortress Alhambra and from November to March – the snowy ranges of Sierra Nevada in its background. The most iconic view over the town is from mirador San Nicolas. This small square attracts big crowds, but apart from tourists, you will also meet locals playing music and enjoying sunsets – a very Granada thing to do. Another great sunset spot and a different vibe you will find on the slopes of the gypsy part of town to the North of Alhambra. It looks like some downshifters have been digging caves in the limestone? for centuries here and the tradition is still well preserved)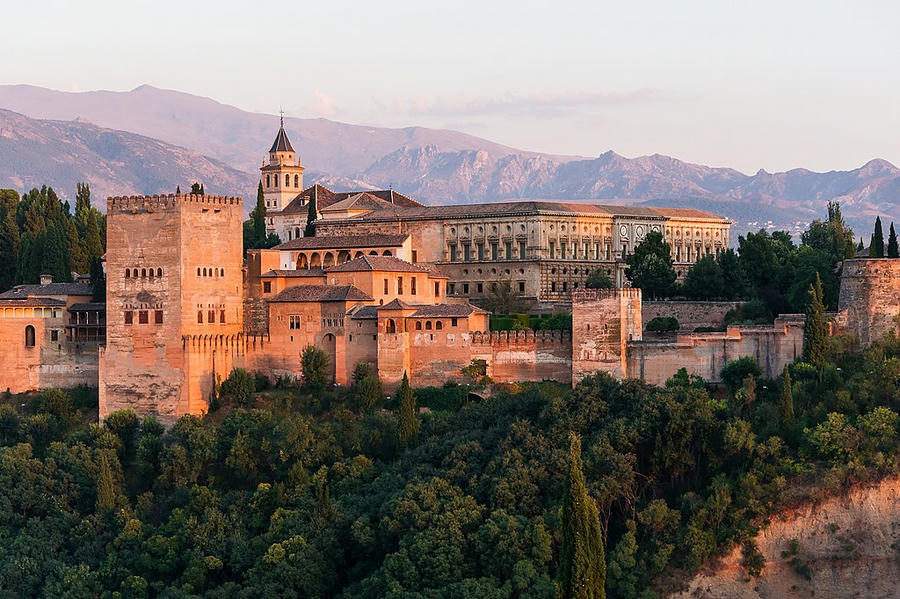 As for the best places for day trips from Granada, we will definitely name Sierra Nevada. An easy walk will be the one from Monachil – another idyllic village some 20 minutes from Granada. In fact, we loved it so much, that we spent an entire month here, exploring the trails of Sierra Nevada and hopping on a bus to town once we wanted some great coffee and the big town life 😊
Part Three: The Coast
Costa del Sol
As its name suggests, Costa del Sol definitely has a lot of sun, and in the cold winter month in Europe, sun and warmth is a good reason to go to Costa del Sol – the Mediterranean coast of Andalusia, between Gibraltar in the West and Murcia in the East. The nicest places on the coast may be the white coastal village Nerja and the nearby hilltop village Frigiliana, nestled in the mountains. But frankly speaking, we are not big fans of Costa del Sol: it is quite densely developed with villas and hotels and packed with crowds. In the very beautiful Frigiliana, you are likely to rub shoulders with other visitors even in the low season.
The Atlantic Coast
But we do really like the Atlantic Coast for its laid-back vibe and its beaches. It is windy there, that makes it a perfect place for surfing, wind surfing and kite surfing. Fellow surfers with their faces painted white, pink or blue with waterproof sunscreen and sun-bleached hair are to be seen in the supermarkets and bars from Tarifa in the East to Conil in the West.
Tarifa is a charming old town near Gibraltar. Actually Tarifa, and not Gibraltar is the southernmost point of (Continental) Europe. Its Arabic origins can be seen in its riads and window frames. We spent some time here, and may recommend a great place to dine – Silos 17. If you get bored of beaches, bars and sports in Tarifa you can always hop on a ferry to nearby Morocco: you can see the African coastline from Tarifa quite well.
Another charming village further West is Zahara de los Atunes – it used to be a fishing settlement, and in spite of the growing importance of tourism, it still preserves its distinctive character. Zahara beach with its sandy dunes may be the most beautiful on the coast.
The long sandy beach of nearby El Palmar de Vejer is perfect for surfers, there is hardly a day here without good waves for beginner surfers - this has probably attracted the vanlife community.
You may also surf in El Palmar and stay in the nearby village of Conil – if you prefer to have cafes, bars and a big Mercadonna supermarket within walking distance.
You will have even more options for eating, nightlife and fantastic views over the coast at the scenic village Vejer, located on the top of a hill, some 20 km away from El Palmar and Conil.
Alternatively, book a holiday rental in La Roche famous for its pine woods and sandy cliffs.
Back to Seville.
From Cadiz, it is only an hour to get back to Seville (you can't go further west down the coast because of the Guadalquivir delta, sand dunes and the Doñana National Park)
If you still have some time - go to Sierra de Huelva to the west of the town. Its white villages and green slopes with grazing sheep, cows and piggies seem to get a lesser share of tourists flooding Andalusia. And after having seen so many factettes of Andalusia, here, you are going to learn Andalusia from another side: tranquil and green, really similar to neighboring Portugal. At last, you may come back to Seville and fly back home – or maybe continue to Portugal?