We have been everywhere on Crete, picked out the best of the best and created this Crete itinerary. Here you will find world wonders, routes off the beaten path, the most spectacular views, traditional villages, hidden beaches and amazing trails through the beautiful gorges of the island.
1-2 weeks
Let's say you landed in Chania. You rent a car, maybe take a look at the town (it is not bad) or maybe you postpone sightseeing to a later day. Either way: don't stay here for too long.
We'd recommend you to go straight to the north-western part of the island. Here is our first pick: the village of Afrata. Afrata is just a place that embodies everything that we love about Crete: narrow white streets, old houses, flowers everywhere and the scent of flowers in the air. Still, it is far away from the main tourist routes.
Tip: In Afrata, you may stay at Robin's Nest B&B and enjoy a beautiful view over the sea. You will love the breakfast there: local yoghurt, honey and fresh orange juice.
The small beach down the road is likely to be almost empty. Or head to the bigger Ravdoucha or Phalassarna Beaches further west.
Here, on the western shores, you may also find the most splendid and famous sand beaches of Crete: Elafonisi and Balos.
A dirt road leads to the Balos Lagoon, make sure your car has a good ground clearance or take a boat.
Both beaches tend to get too crowded in the high season. If you happen to go to Balos in July or August, try to be there as early as possible, before the boats bringing the tourists from Chania arrive. Close to Elafonissi, there is another beautiful and less visited beach - Kedrodasos. You will not find any beach bars or chez-longs here, but local hippies chilling in hammocks tied to the trees.
The serpentine road along the west coast with some jaw-dropping views of the sea is a great sight itself.

To see the best of Crete it is good to have a car.
AUTO EUROPE compares the deals on car rentals and suggests you the best deal. We found it easy to use and it did offer us the best deal!
You may also check Gialiskari Beach by Palaiochora on the southern coast of Crete. Even though it is one of the most beautiful beaches on Crete, it doesn't get nearly as full as Balos or Elafonissi. There are plenty of hotels in the towns of Palaiochora and Sougia, but we would recommend that you can look for a nice Airbnb in the hills north of both towns as nothing compares to the idyllic Crete countryside!
We made a video about the most beautiful beaches of western Crete - Kedrodasos, Gialiskari, Glyka Nera, Marmara & Elafonisi! Find out what the beaches are like and how to escape the crowds and have your own private beach even during the high season ;)
If you are not short on time, get to Agia Roumeli from Sougia by boat (40 min) and trek the longest canyon of the island - Samaria Gorge for a day. There is also a smaller, less famous but not less beautiful gorge near Sougia - Agia Irini. If you don't have an extra day to spend for trekking, a short walk in Agia Irini will be a good alternative.
From Sougia, you can either go round the White Mountains Protected Forest (there is no car road in the southern part of it) or you can take a ferry from Sougia to Hora Sfakion.
Mountains are always a source of awe and beauty, so driving the White Mountains is very rewarding, even while time consuming. The laid-back mountain villages of Crete - Lakkoi, Theriso, Fres will be a good change from the vibrant atmosphere of the beach towns.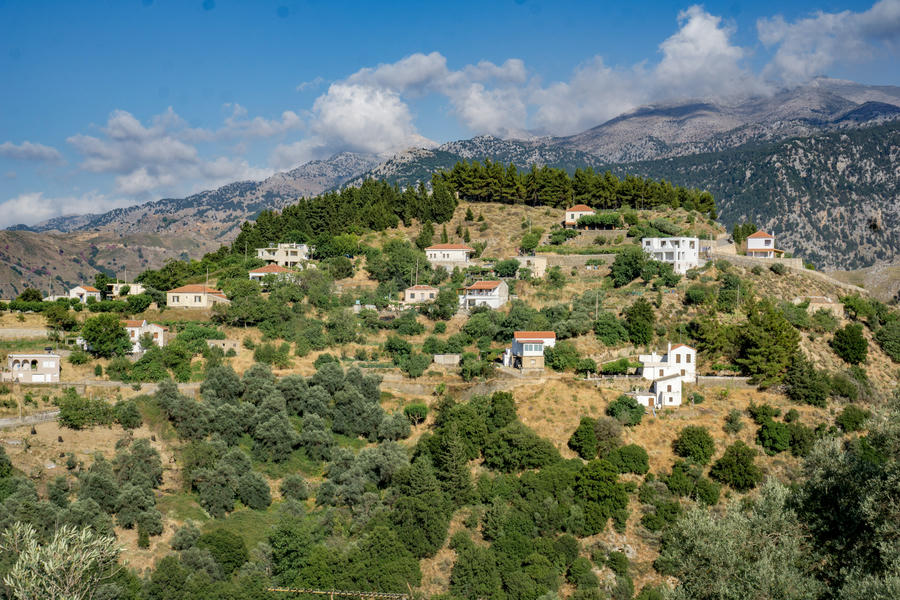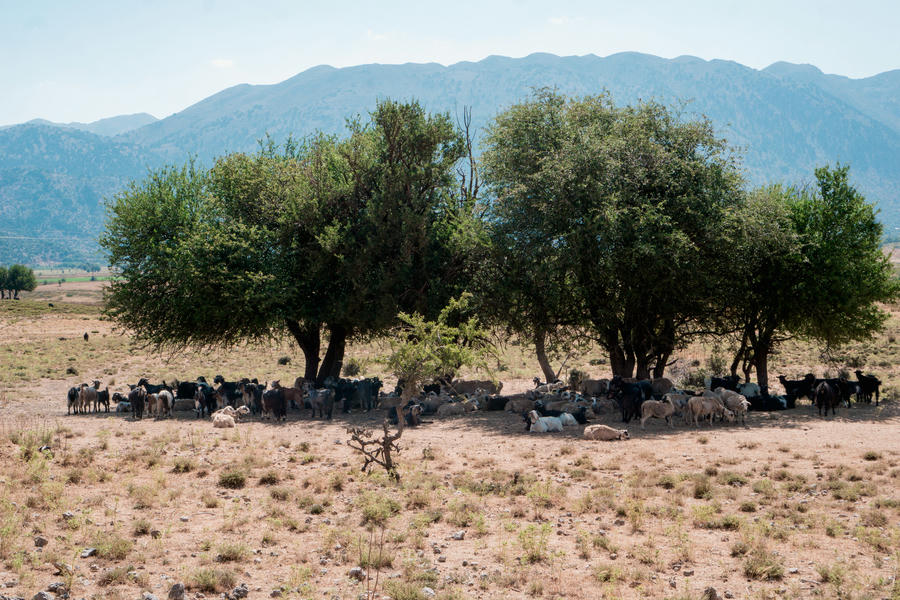 Tip: Omalos Valley and Mike Omalos Houses. Hidden in the White Mountains, the Omalos Valley is just a perfect getaway. Sitting on the veranda of Mike's beautiful house, listening to the goats bleating and bells was one of the best experience we had on Crete. There are a number of tracks close to Omalos, e.g. you may trek the Samaria Gorge from here.
Hora Sfakion. This little town would charm you with its tiny chapels by the sea.
From Hora Sfakion, you may do a great day trip to Loutro. You may have seen pictures of this small white and blue town nestling under a cliff. But it is better to see it with your own eyes.
You can hike to Loutro either from the amazing beach of Glyka Nera, or from the opposite side - Finikas. These are some of the most spectacular trails on Crete. Still, you are not likely to meet a lot of people while hiking.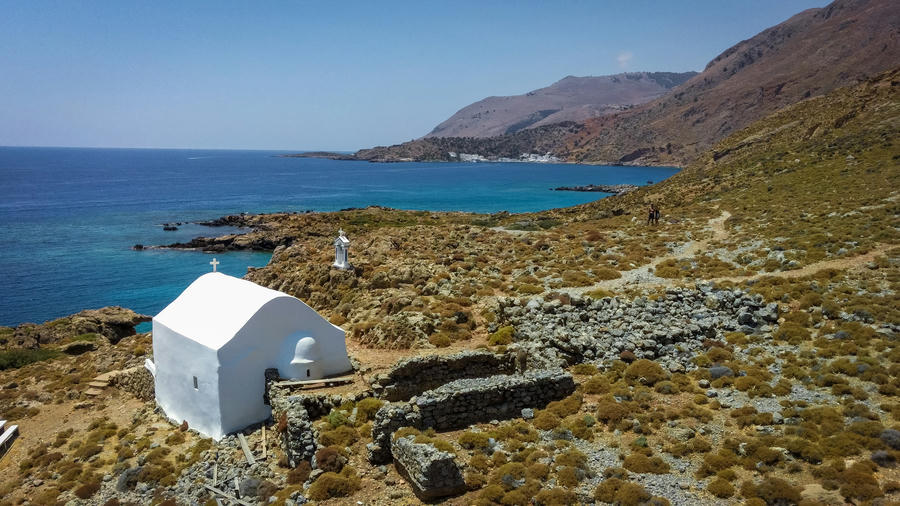 Close to Finikas, there is another gorgeous beach - Marmara.
On the way from Hora Sfakion to Finikas, you reach one of my favourite spots on Crete: the picturesque ruins around Aradena Church. You may spend hours here enjoying the peace and the tranquillity of this historic place with only goats as companions.
Tip: Where to stay? Both Hora Sfakion and Loutro have a number of nice hotels a great choice of restaurants and cafés. But if you would like to stay away from the buzzing life of the tourist towns - and still close to the main points of interest, we would recommend Madares Apartments Anopolis in Anopolis village. And you can also trek to Loutro from Anopolis.
On the next day aim for the Preveli Monastery. You may take either a faster road along the coast via Korakas or if you have some time to spare, take a detour and drive inwards the island. From the hills, you would have a fantastic view over both coasts of Crete. The green meadows, the old villages and herds of sheep will make you love the place.
When you see Preveli Monastery, we promise, you won't be disappointed. It boasts a great location over the ultramarine sea, beautiful architecture and a splendid interior of the churches. In April, you would have the poppy fields around the monastery that would add to its parlour.
A scenic descent to a gorgeous beach close to the monastery and a short walk in the palm forest by the beach would top off the great day you had. You may want to stay in a basic cheap hotel by the palm forest - we preferred it to the overrun and rather plain Plakias. If you do stay in Plakias, choose one of the hotels situated above the town.
Alternatively go through Kourtaliotiko Gorge to Lampini, an old town with another very old and beautiful church. Lampini is a good base for exploring the scenic atmospheric villages around: Gerakari, Amari, Monastiraki. Plan a couple of days as this region really is a gem!
Tip: In November 2014, we really enjoyed staying at the hotel Aoritis Villas. On the dark November evenings, its owner used to pop into for a drink and a chat and his wife made delicious cakes we had for breakfast.
If it is the time for you to get home, you may turn northwards towards Rethymno. Do stop on the way at the famous Arkadi Monastery and Amari monastery.
Once on the highway, you would reach Chania in just a couple of hours.
Tip: Planning you Crete itinerary, keep in mind that driving small roads (that also happen to be the most scenic) is time consuming. At the same time, Crete is very diverse, from the number of great regions we mentioned in this post, you may choose one and you are sure to find spectacular beaches, scenic villages, peaceful valleys and challenging hikes. If you have just a week, you may consider:

a roadtrip along the western beaches (Balos, Phalassarna, Kedrodasos, and gorges and villages of the White Mountains (Omalos, Lakkoi).
a roadtrip over Hora Sfakion, Aradena, Loutro, Preveli, Lampini, Arkadia and Rethimno.
If you plan to go further to the east, aim for Heraklion and stop at the beautiful small town of Zaros and check the Rouvas Forest and its gorgeous gorge.
We've stayed a couple of times in Zaros, and each time we had an XXXL breakfast there! A good breakfast seems to be a visit card of the village. We liked our stay at Roes Apartments. Hariklia Rent Rooms and Hotel Zaros are other good budget options.
If you land in Heraklion and want to explore the eastern part of the island, check our next blog post - The best Crete itinerary: Eastern Crete!