Santorini is said to be the most beautiful place on this planet. Is it expensive? It is said to be one of the most expensive holiday destinations. However, following in our footsteps, you can have a fantastic holiday without breaking the bank. Here are some great tips for you to travel Santorini on a shoestring: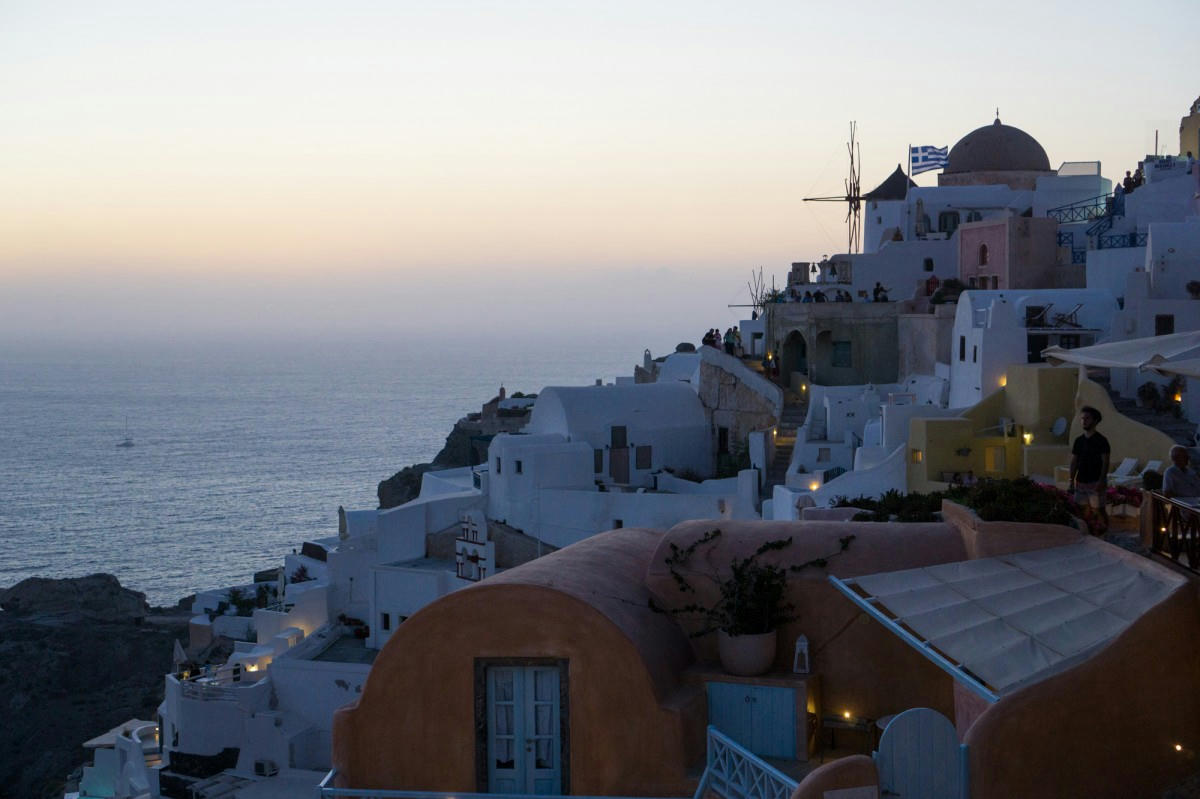 1. The cheapest way to get to Santorini: Santorini has a rather small airport and no lack of tourists. This leaves budget airlines little chance of stepping in with the low fares.
The budget airlines usually choose underutilized airports and by negotiating ruthlessly, they get significant discounts. This is one of the important factors that allows them to operate cheap flights.
As Santorini Airport is in high demand, the budget airlines are unlikely to get good discounts and the flights to Santorini are going to remain on the rather expensive part of the scale. (Sure, there are some exceptions to this rule. The budget airlines do operate a couple of flights to Santorini and sometimes the airlines do have special offers and promotions sometimes)
What you may do to get to Santorini in the cheapest way is to fly to the neighbouring islands of Crete or Mykonos with budget airlines like Ryan Air or EasyJet and then take a ferry. There are several ferry companies operating among the Aegean Islands.
The main difference is between the speed jets and the slow ferries. The speedboats take only 1.40h and cost around 70-75 EUR. It takes a slow boat (Golden Star Ferries) 4h to get from Heraklion, Crete, to Santorini and the ticket costs 40 EUR. However, you may get a 50% discount as an international student – the speedboats didn`t offer me any. So I paid 20 Eur for a flight to Crete and another 20 for a ferry ride. A good deal isn`t it!
Have a look at the websites selling the ferry tickets. If you plan your journey in advance, you may get a discount!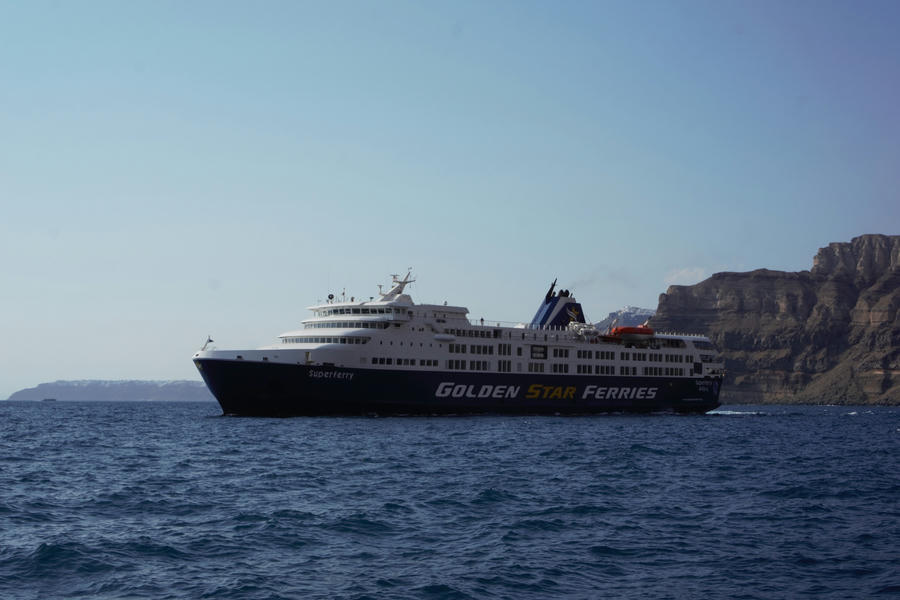 Our tip: "FerryHopper"
website
with a timetable of the ferry to Santorini and the prices including discounts.
2. Where to stay on Santorini: It certainly depends on what you are looking for. If the beach is your priority, head to the villages in the south-east of the island: Perissa and Kamari. If you would like to have a fantastic view over the caldeira from above, the villages of the north-west are what you are looking for.
If your choice is restrained by your budget, see the first option: the beach villages are an affordable option. The prices for the basic rooms vary between 45-70 EUR. But I managed to find one for as low as 25! What I did: In Perissa, I walked around and just asked pretty much every hotel and a house with a 'rent-a-room' sign. Surely, I haven't had much luggage with me. A part of the accommodations were booked out, the reception of some hotels was closed for the day (however, they leave the telephone number on the door so you may call and make inquiries), some hotels turned out too pricey and simply were not the kind of accommodation I was looking for: I didn't need any pool to chill at, but just a private room with a bathroom on a quiet street, close to the beach and the bus stop. Finally, at the end of the day, I found what I was looking for: a room in "Agios Antonios", a family run hotel with very friendly owners. I may absolutely recommend "Agios Antonios", however, 25 Eur was a special price you would not find on the internet.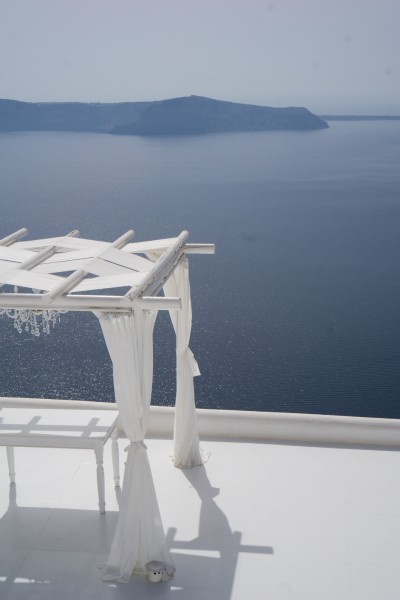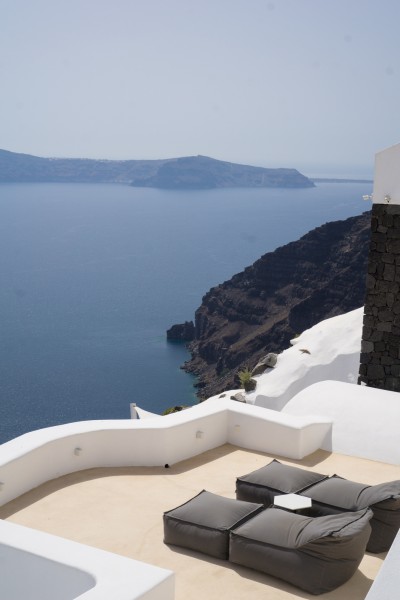 If you do your own research, you will quickly find out that the "caldeira view" rooms are on the other side of the price scale: 200, 300, 500 EUR per night. You may also look for a hotel or a private rental somewhere in the middle of the island, it might be a good choice as well.

Our tip:
We prefer staying at private homes rather than at hotels while travelling. Have you already heard of HOME AWAY? They have lower commission rates than Airbnb!
3. Getting around. There are buses operating between the villages. You may also rent a quad bike or a car. The prices start at 25 EUR a day.

Our tip:
AUTO EUROPE compares the deals on car rentals and suggests you the best deal. We found it easy to use and it always offers us the best deal!
4. Eating. Just as it is with the accommodation, the more expensive restaurants are located on the caldeira. Living on Santorini, I loved grabbing Greek coffee and pastry at corner shops and bakeries, some of them even had a caldeira view!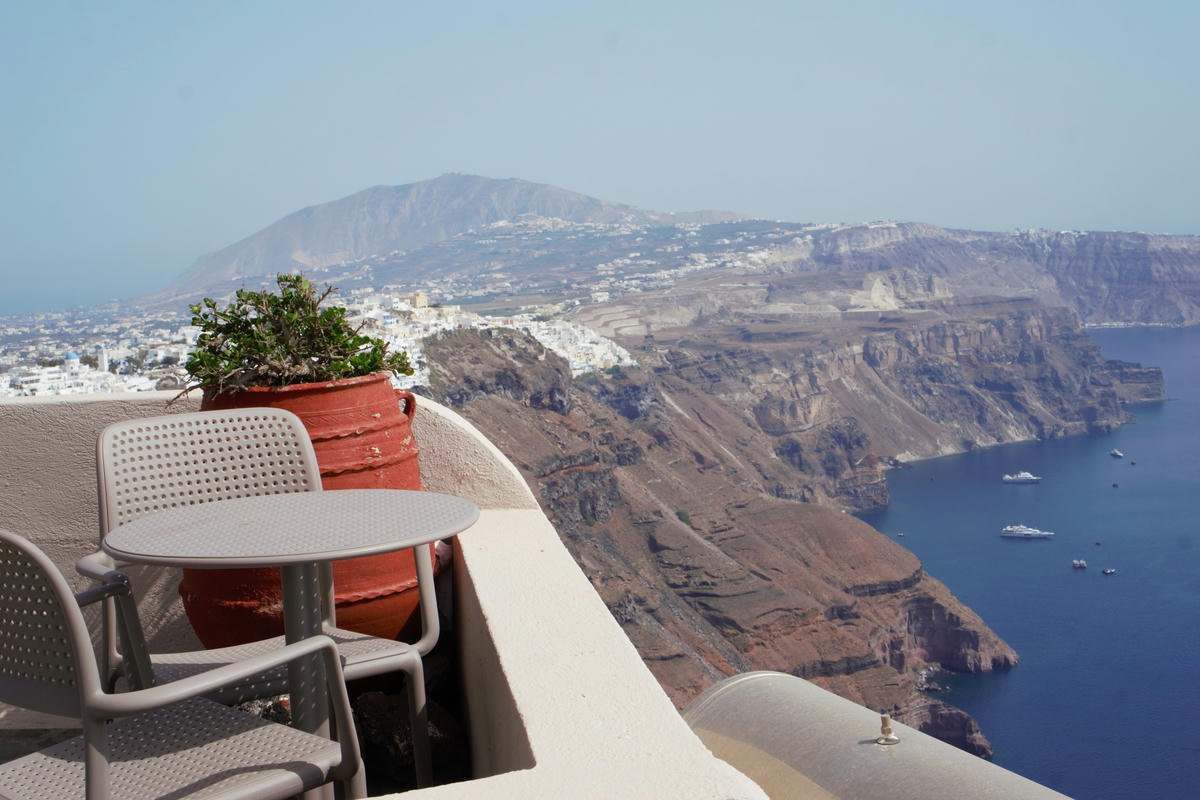 5. Activities. Sailing, diving, wine-tasting, photography tour, there are so many things you may try out on Santorini! However, you may also fill your days with hours at the beach, strolling through the whitewashed streets of villages on the western coast and trekking along the caldeira and it will be fun!
There are 4 villages you have to see on Santorini: Fira, Firostefani, Imerovigli and Oia. Fira and Oia are more touristic and have more shops, cafés etc, while Imerovigli is more laid back, so maybe it was my favourite place on the island. Oia with its windmills and great sunsets attract tourists not without reason. Speaking of the famous caldeira sunsets in Oia: they are stunning without a doubt, but I doubt that they are romantic if you watch it in the "sunset watchers" crowd.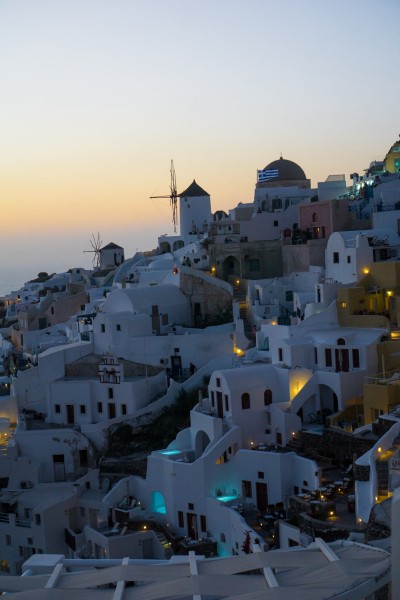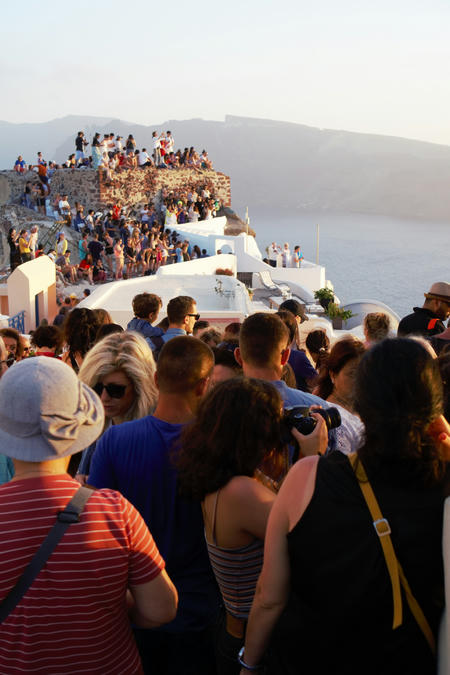 Do a trek from Imerovigli to Oia – the views over the cliffs and the sea are jaw dropping and you will finally have a chance to get away from the crowds.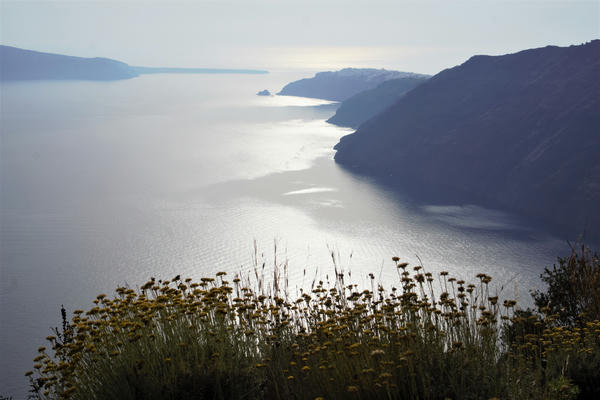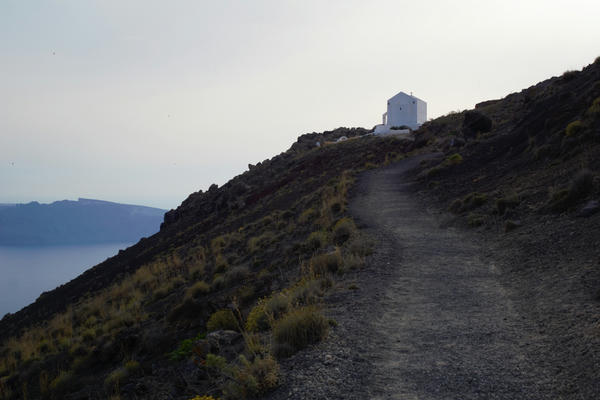 But my best memory of Santorini is bound to its people – just like on Crete. Here is one example: Walking along the caldeira, I spotted the church of Saint Elijah. A church guard invited me inside and showed me around a bit and suggested that I should take a rest in the church garden. He told me that the church was built by his family, talked about the church patron's feast the people of Santorini were going to celebrate soon, showed me the giant glasses of vine that were going to be emptied and spoke of his family and friends. I thought of all the tourists he must have met during all these years – and still, he didn't tire of meeting people, he was apparently happy to greet all the Santorini visitors and share the figs from his garden with them. I am sure the beauty of the whitewashed houses over the caldeira would have left me only half as excited if it weren't for the friendly people on the island.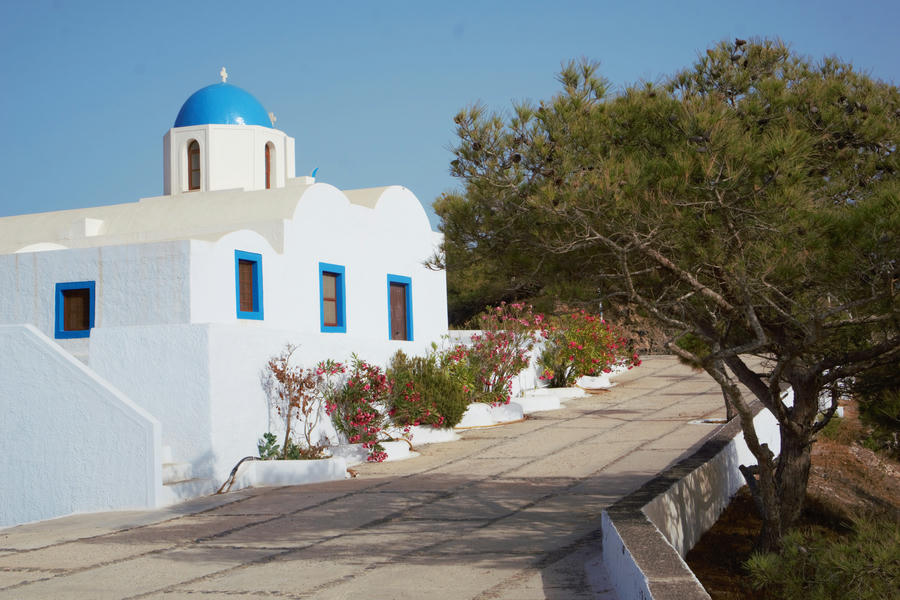 6. Other ways to have a great time on an Aegean island on a shoestring: Check home sitting and home exchange websites – maybe you may sit somebody's house or swap your home for a villa on the island?