We explore Bosnia and Herzegovina in the summer heat of the Balkans. The temperature rose to 38°C (100°F) on that day!
The last day in Croatia had such a wonderful start. In the morning some random German guy popped in to our campsite to say hi, invite us to shower at his place and to tell us about a nearby spring so that we could refill our water. He himself used to travel a lot with his caravan, he said. This hippie vibe made the morning especially nice – it felt like all people are brethren, willing to do something nice for their neighbour and travel around this beautiful world at some point in their lives.
And then we went to Bosnia! The first border crossing at Veliki Prolog was vacant for some reason – useful information for refugees in search of an easy EU border crossing - one may walk in, walk out.
In BiH, we headed to Kravica Waterfall first. However, it turned out to be that overrun that we just turned back and drove to Mostar, THE sight in BiH.
We made a stop at Počitelj on the way – a little picturesque village with an old fortress.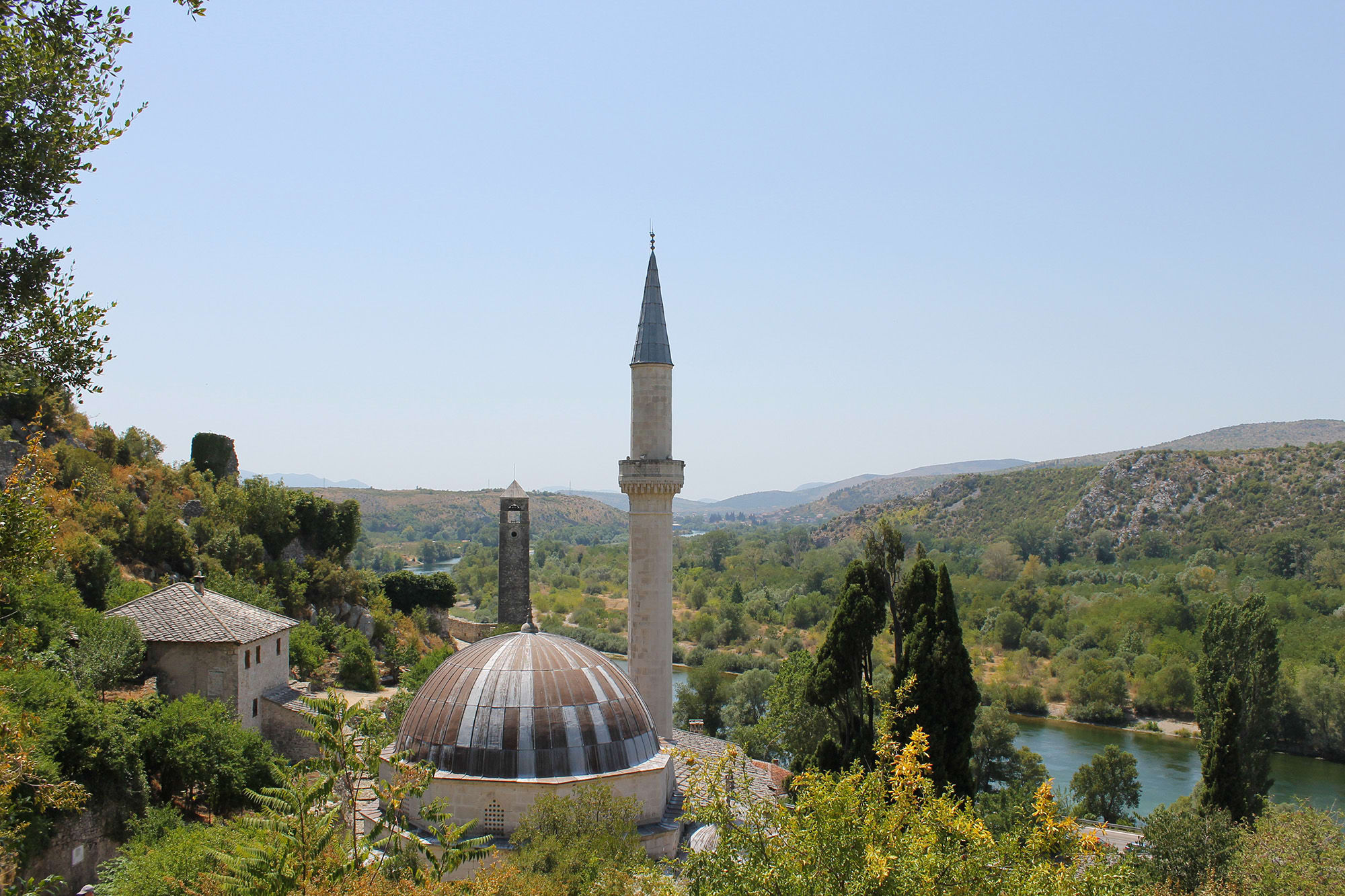 Climbing up the stairs at plus 38°C was made more bearable by some wells, one may drink water from. This seems to be the case in the whole of Bosnia – maybe even the entire Balkans as we saw wells in the streets of Croatia and Montenegro as well.
On the way to Mostar, we made another stop at the river – it looked like it is much deeper and broader in spring, by July some parts of it had turned into smelly swamps, however, it's deeper part still had a strong current. The stinky swamps went well with the mountains of trash on its banks, unfortunately, those are abundant in Bosnia.
It is also possible to jump into the river in Mostar. A local celebrity guy in short blue pants does it professionally – I mean he jumps from the high Old Bridge of Mostar and when he is not jumping, he is collecting money for his accomplishment or just chills in the sun in his short blue swimming pants, with one leg hanging from the bridge.
The old town itself is worth a visit, it looked very different from everything we say in Croatia even though we had an impression it consisted mostly of restaurants. We finally decided to eat at Šadrvan (It is on the western side of the bridge) as they seemed to have the biggest vegetarian menu. Their portions were big, food was good and the prices quite reasonable.
The spaces not occupied by the restaurants were taken by the artisans' shops.
Scared by stories about prices in Dubrovnik we did some grocery shopping in the supermarket nearby that was open on Sunday evening. But God punished its clients and us in particular for the Sunday shopping - everything we bought turned bad overnight. To be fair, the long-life milk was not living up to its name in Croatia either. And the German one we've got in Munich survived way too many hot days and nights so that we got suspicious of its contents.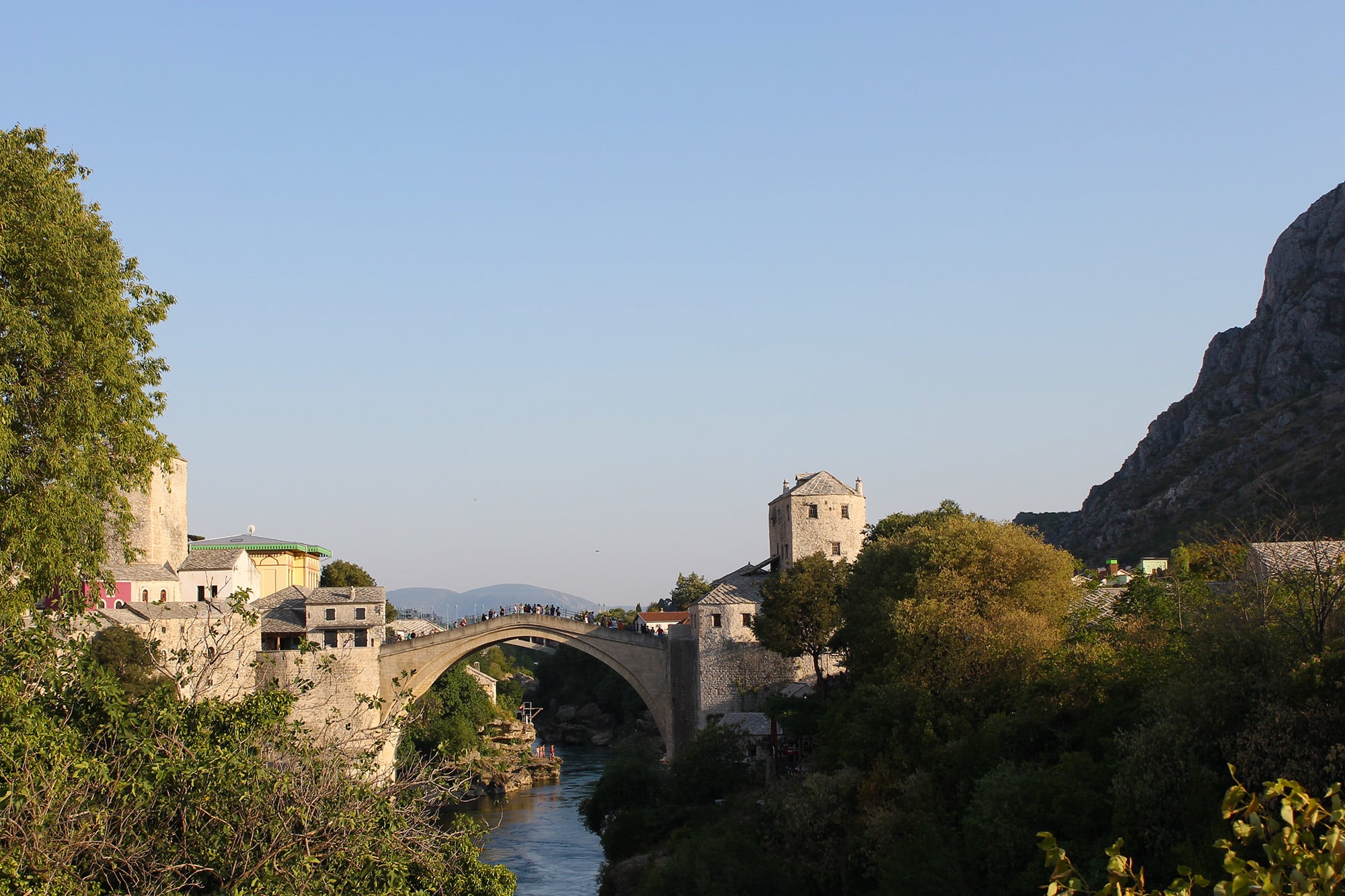 Even though we started our search for this nights shelter quite early that day, we didn't have much success. Plan A, Blagaj, turned out to be too densely populated. Plan B, Blato Lake, as well. It was already 21:00 and pretty much dark outside when we finally threw the anchor on the top of the trash littered hill over Blato. For that reason, the time spent outside the car was minimized and the usual relaxed breakfast was skipped entirely.
Dear reader,
it is you who keeps our site running and helps us grow and bring you more stories from our trips and the local people we encounter. We believe that telling these stories brings the world closer together and is hence a way to make a positive change! Please support us with a small donation on the kofi platform. Even a small contribution makes a big difference!