There were times when you could travel to cities like Prague, Dubrovnik or Tallinn on a shoestring - now, 20 years later, those days have gone by. Still, there are some amazing affordable destinations in Europe that you can visit today.
While travelling there, you may enjoy the local cuisine without restricting your eating budget. You may visit as many museums as you like instead of going to every single church in town (though that may be your grandmother´s dream!) just because they have no entrance fee. You may stay at a nice hotel or an Airbnb instead of crawling into a tiny Harry-Potter-room in a remote neighbourhood and so on and so forth.
1. Budapest It feels like it is a city for young people - they have occupied the town's squares and streets. A great number of bars and clubs with cheap yet good beer is a promise of a good time spent in Budapest. Try Szimpla, its wooden ambience and pieces of old furniture and car wrecks placed throughout remind of the famous Berlin club scene. Staying in Budapest, we had a great Airbnb flat in the city centre for just 23 euros. While in the city, do not miss the famous Széchenyi Spa baths. With an entrance fee of 17-20 EUR, it is not the cheapest attraction of Budapest, but for a spa, the place is a bargain!
2. Lisbon Lisbon is a treat: Exquisite, mysterious, loaded with history and blessed with lots of sunshine and the salty air of the Atlantic it is worth a visit in any season. One of the biggest treasures of the city: a cup of coffee (galao) and a biscuit with a pudding-like filling 'pasteil de nata' will cost you a couple of euros and is available in every corner coffee shop. The next stop in the city is a food market in the neighbourhood you are staying in. Get a paper bag of the tastiest fruit of the season. Then go wine and cheese shopping. Even buying a wine for less than 3 Euros you are likely to get an OK wine - I guess bad wine simply doesn´t exist here. An old lady who keeps a stuffy grocery shop could wrap some inexpensive but incredibly delicious goat or sheep cheese into a waxed paper for you. Bon Appetit!
On Airbnb or Homeaway, you may get one of the atmospheric old flats in the old town for as little as 30 Euros. Our Airbnb in the Alfama neighbourhood was in a narrow ancient house, a studio flat occupying the entire second floor of the tiny house. At the distance of an outstretched arm, there was the neighbouring house. On the corner, there was a bar where they sang the traditional Fado songs and when we had our windows open we could enjoy the concerts even without leaving the house.
It didn`t take long and cost little to go to the ocean: you just have to take a train heading to Cascais. Walk the sea promenade and enjoy the sea air and gorgeous views!
3. Tbilisi Be quick, Tbilisi is starting to emerge as a top destination! And not without reason. The spectacular fixer-uppers, broken-backed houses with wooden balconies and staircases leaning at an angle greater than that of the Pisa Tower... the city centre has a unique character without a doubt, although some of the mansions look too dangerous to be standing nearby. Are you adventurous enough to book a rental Airbnb in one of such ramshackle places? On the other hand, there is splendid mosaic laid baths, cosy bars and restaurants, and even a waterfall within a short walking distance from the main square! Try Georgian wine produced in a unique manner - fermented in clay jars buried in the ground.
The subway in Tbilisi costs as little as 0,70 $ - but do keep in mind that the last bus to the airport leaves as early as 6 pm.
Tbilisi is also a good base for exploring the rest of this picturesque country - consider going to the old cave town of Vadzia or if you have enough time - to the gem of the Caucasus: Svanetia.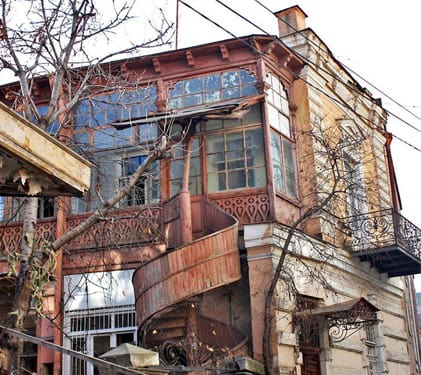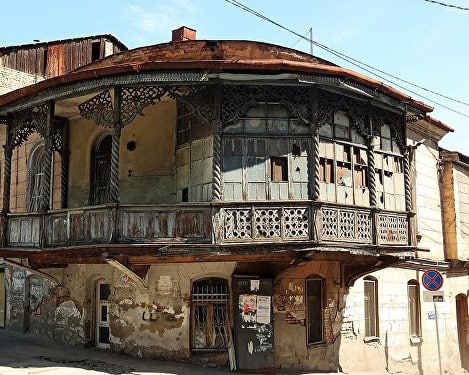 4. Berlin There were times when you could just choose any of the empty flats, throw a mattress onto the floor and have a party on the roof. These times are long gone. Gentrification of the city is increasing fast but that doesn´t mean you have to have a black credit card to enjoy this party capital. As a matter of fact, you can have the best time of your life in the famous club Berghain with just 25 Euros in your pocket. There are great parties without any entrance fee at all: keep an eye on the events in facebook promoting open-air parties in one of the green areas of Berlin farther away from the centre. Some friends of mine even managed to raise funds once while partying at the club Sisyphos: they gathered forgotten bottles and glasses within the club and returned them for their deposit.
In Berlin, it is ok to drink alcohol in public: grab a bottle of the cheapest beer Sternburg (affectionately called Sterni) from a nearby corner shop and hang out with your friends in a park or next to some body of water. The corner shops are another cheap alternative to the bars: usually, they have some tables and benches by the entrance. If you are new to Berlin don´t miss Wine Forum at the Wineberger Platz: in this atmospheric bar you may drink as much as you want and pay what you think is fair. The place also serves food at 20:00.
But enough about drinking! In the warm season, there is a number of street festivals you may enjoy for free such as the Bergman Jazz Fest in June or the Festival of Lights in October.
5. Lviv Lviv, a city in Western Ukraine is also known as Lvov in Russian, Lemberg in German or Lwów in Polish: Once a part of the Austrian Habsburg Empire, the Soviet Union and Poland, the city has a long and controversial history and a lot of cultural layers. Do not miss the Armenian cathedral dating back to XIV century and the Greek Catholic Bernadine Church. The old Lviv bohemia has a reputation for spending hours in town's cosy coffee-shops - follow in the footsteps of the locals! They certainly have an artistic fleur, good coffee and are by no means expensive!
Outside of Lviv, consider visiting the castles and palaces of the former Austrian and Polish landlords. Unlike British estates managed by the National Trust or the European castles that were turned into 5* Resorts, in many of the Ukrainian palaces, nature plays the first fiddle. Or why not see the Ukrainian part of the Carpathian Mountains?
6. Barcelona Barcelona is one of the great affordable destinations in Europe - it is not quite positioned on the cheapest part of the scale, but certainly not on the most expensive part of it either like London, Paris or Reykjavik. Strolling through its wonderful streets gazing at the Goudi houses is both priceless and doesn´t cost a penny. Lots of important museums offer entrance free of charge on Sunday from 3 pm: e.g. the Picasso Museum.
But beware, the free day attracts lots of visitors who form really long queues! Arrive early, head to one or two museums you really want to see as it would be a shame to spend a weekend in Barcelona just standing in lines.
You may also enjoy a free walking or bicycling tour.
7. Sveti Stefan and surroundings While Dubrovnik, occupied by the Game of Thrones fans and the Croatian coast, overrun by discount airline passengers and dotted with caravan camps has long become an example of how mass tourism can change a place, the gem of the neighbouring country, Sveti Stefan, and the Montenegrin Coast are surely touristy but to a much lesser degree. Go to Sveti Stefan for one of the most spectacular views over this medieval town, enjoy the laid-back villages nearby, become one of the few visitors of the breathtakingly beautiful lake Skadar on the border with Albania. Montenegro has so much to offer!
We hope you enjoyed reading about our top picks for affordable destinations in Europe! Would you recommend other destinations? Please leave a comment below!