On this day we examined the best Dalmatian beaches (according to Lonely Planet) and now share our impressions here.
Brela is the best beach according to the Lonely Planet, there are lots of pine trees here and since the town lies beneath a mountain it is spectacular to look at from the sea and it is always nice to look at the sea from the land. We had a suspicion that it would be hopelessly full as well. Our suspicion was proven to be right, indeed it was. There were more humans than pines and the parking started on the top of the aforementioned mountain – expect to take a long walk down the serpentine. And then up again.
But going there is worthy of the effort. The breathtaking view opens when one starts descending from the mountains to the coast on the road south to Split.
Searching for a place to stay for the night we turned to our old Cretan strategy – to check the map for a church further from the coast, removed from any village or large road.
The churches are usually well situated and are at the end of the road. Away from the coast means literally being alone. The tactic worked brilliantly here as well. The church of St. Ante was luckily placed on a hill overlooking the Adriatic Sea, more or less near the Biokovo Botanical garden (a big rock by the church). I wish we would have had more time but it was also a bit too hot to climb the steep rock.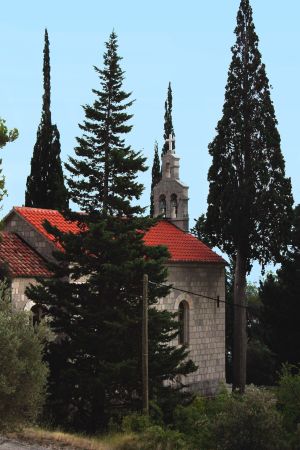 Dear reader,
it is you who keeps our site running and helps us grow and bring you more stories from our trips and the local people we encounter. We believe that telling these stories brings the world closer together and is hence a way to make a positive change! Please support us with a small donation on the kofi platform. Even a small contribution makes a big difference!