Bogota is a bustling city with many neighborhoods to choose from, but one that stands out for its liveliness and convenience is Chapinero. Located in the heart of the city, Chapinero is a great option for those looking to live in a central location with access to a variety of restaurants, cafes, and nightlife options.
When we arrive to Bogota, we grab an Uber not to our hotel but to one of our favourite cafés. Colombia is known for its coffee and you can certainly get it in Chapinero. The café are also a perfect place for digital nomads - spacious, well-designed, affordable and the waiters are more than cool if you sit there with your mac for hours. We love café Libertario (Cl. 70a)- both its coffee and the space. We love Amor Perfecto, it is opened even when everything else in Bogota is closed (like on a New Year Eve). Vida Café y Jardin has a quiet inner garden filled with plants and sun, a nice escape from the hustle of Colombian big city traffic.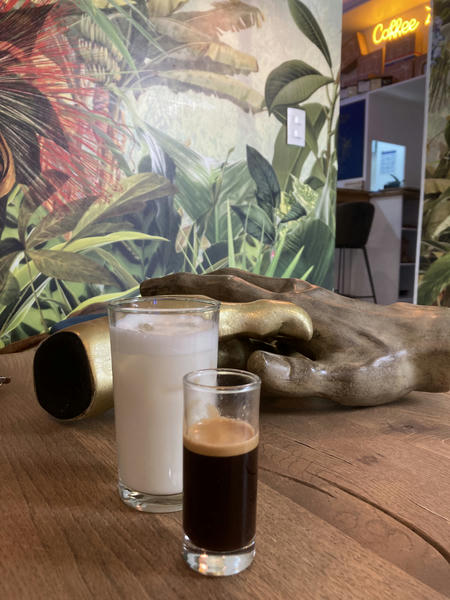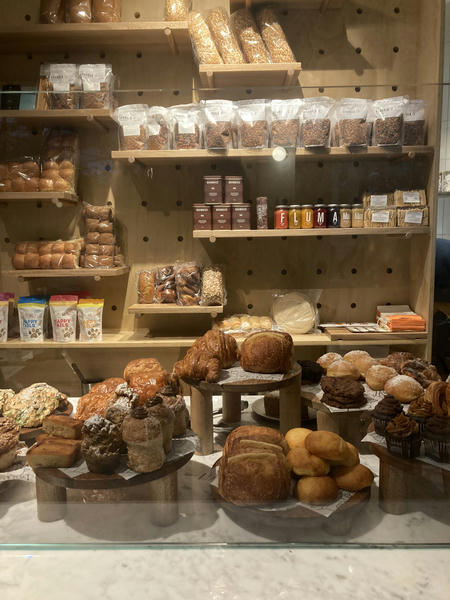 Chapinero is known for its food scene, with a variety of options for every taste and budget. For breakfast, you can grab delicious and affordable arepas just at the street stalls, or check out the upscale brunch options at one of the Masa. cafés. In Chapinero, you get the best almond croissants in the world at Camila marulanda pasteleria (Cl. 68 #553). Also when in Bogota, we don't miss a chance to get some of the best cheesecakes at 'Amreican Cheesecakes' pastry chain.
For lunch or dinner, you'll find plenty of options in Chapinero, either local or international. If you have been missing good Mexican food, head to EL MASTER Taqueria Mexicana in Cl. 67. Mini-Mal serves up creative Colombian fusion dishes (Tv. 4 Bis #56A-52,) and Wu Dumplings have delicious fried noodles (Cl. 69a #9-66).
For a night out, head to Mono Bandito for snacks and drinks, check out the trendy cocktail bars like Metronomo and Chapinero clubs - we would recommend Video Club - in the Chapinero Alto neighborhood.
Beyond food and coffee - but even that would be enough to fill a week in Chapinero! - there are other things to do in Chapinero. Go jogging through the Parque Nacional to enjoy the green space under the towering mountains. Visit the Biblioteca Nacional to explore Colombia's literary and architectural heritage or catch a show at the Teatro Mayor Julio Mario Santo Domingo. Or why not to get an affordable 5$ manicure and pedicure at Super Wow! Spa de uñas in Rosales?
Bear in mind, Chapinero is big, and not all of its parts are nice or safe. We would recommend you to search for a hotel or AirBnB in Zona G - or in Nogal. You can reach everything on foot from here. Try to avoid a busy and noisy Avenida Caracas and the area around, unless you want to experience the other side of Bogota apart from hipster coffee shops and bars.
How to find a flat in Chapinero?
If you're looking for a flat in Chapinero, there are several resources you can use to find the perfect place for you.
Real estate websites: Websites such as Fincaraiz and Metrocuadrado are popular resources for finding flats in Bogota. These websites allow you to search for flats based on your desired location, size, and budget. You can also view photos of the flats and read descriptions of their features and amenities.
Social media groups: Facebook and other social media platforms have groups dedicated to housing in Bogota. Joining these groups can be a great way to connect with locals and other expats who may have leads on flats for rent.
Local real estate agents: If you're new to Bogota or don't speak Spanish, working with a local real estate agent can be a helpful option. They can help you navigate the rental market and find flats that meet your specific needs and budget. Many things will not go the way you expect, but looking for the flat will be fun :)