With almost 25m people, Mexico City is so enormous, that I gave up on the idea of seeing all of its sights. It would mean spending hours and hours on trains, buses and taxis, hours I could have spent outdoors enjoying the sun. The idea I had was to keep things slow and focus on the neighbourhood we were staying in and that was Xochimilco. There is a lot to see there - enough for a whole week!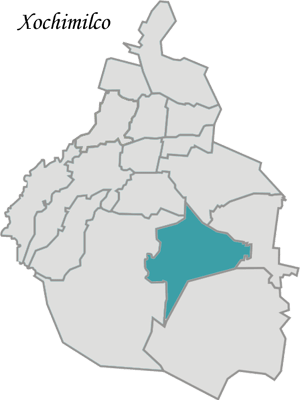 1. Ride a Boat on the Old Canals. OK, this is actually quite a famous one! The canals of Xochimilco are featured in all the guidebooks and travel forums. And it is a great thing to do - even if you don´t go on a boat tour, the bright painted boats themselves are worthy of being seen.
However, I had a different image in mind when I first read about the boats and canals. All the articles featured floating gardens and I expected to find some kind of lush vegetation, dense bushes of orchids leaning over the water - that was not the case at all. But for flowers, one may head to the market on the other side of the Anillo Perif. avenue.
2. Visit a Flower Market You may find flowers and bouquets of all kinds here. Also some unique ones like the black Calla lilies. With 1300 stalls, the market is the largest of its kind in Latin America. It comes as no surprise that it is located in this part of town: Xochimilco means a 'flower field'!
3. Museum Dolores Olmedo Museum Dolores Olmedo is another famous sight! People head here for a collection of Frida and Diego and we have to say the house itself would be worth a visit even without the exhibition. Peacocks walking around with their tails open is something you probably do not see every other day. Weekend music concerts take place on its premise. On Tuesdays, there is no entrance fee.
4. Walking We generally enjoyed strolling the small streets of Xochimilco. Being a village before joining Mexico City, Xochimilco has lots of old houses and churches, we especially liked the area near the church.
Close to the market and the boat station we spotted a stairway to heaven! At first, we were entertained by this Led Zeppelin-inspired monument and annoyed by the inconvenience of having to cross the busy road. However, a friend of us explained that the stairway's appearance is due to the earthquake of September 2017.
Walking is really safe in terms of crime: We didn´t feel threatened either at daytime or at night. But you have to be young and healthy to be physically able to take the walks. The pavement is narrow, often non-existent. The tall curb stones are really unsuitable for a person in a wheelchair or with a baby stroller! These inconveniences for pedestrians result in a great number of cars and thus traffic jams.
5. Horseback Riding. Close to the place where we stayed, we found a horse club "Las Flores". The outside riding arena is surrounded by blooming bushes, with the sun shining, a riding lesson in the winter month makes it a way more pleasant experience than in cold Europe, in a dusty riding hall. For 400 pesos you may get a private lesson as there aren't many people in the morning hours before the school girls come. The horses are in a good shape and the saddles are comfy. If you are not into riding, just chilling in the café on its premise (the café is opened on weekends) is a good option - there aren't a great many parks in Xochimilco.
6. Chill on a Roof Chilling on the roof is another good option. Almost every house has a big rooftop. Get yourself a book and some coronas and leave the roof only to get some quesadillas from the nearby street.
7. Eating There are great street food markets in many corners of Xochimilco like on the corner of Av San Lorenzo and Prolongación Ignacio Aldama. And everything is delicious. In this respect - check our blog post about vegetarian and vegan dishes! And don't forget to like and share!
Dear reader,
it is you who keeps our site running and helps us grow and bring you more stories from our trips and the local people we encounter. We believe that telling these stories brings the world closer together and is hence a way to make a positive change! Please support us with a small donation on the kofi platform. Even a small contribution makes a big difference!