Missing out on haciendas in Mexico means missing something very beautiful and an important part of its cultural heritage.
What actually is a hacienda? An estate dating back to colonial times. It is sure to have consisted of a house and some land used in varying manners: agriculture, mines, producing tequila etc. Nowadays some of the haciendas are left in decline and their splendour is gone with their business. However, some businesses still keep their head over the water or even do very well.
Some haciendas were turned into exclusive hotels and event venues. The wedding of our friends took place at one of the haciendas near Merida on the Yucatan Peninsular. The place - the Tamchen hacienda - is really stunning. It was beautifully restored in a manner that emphasises its age instead of hiding it. Furniture is antique so that it suits the place perfectly.
I didn´t have any idea what I could have done differently here - except for having a stable and a riding area :) In the yard, there are two pools, one is with water lilies and another is just a swimming pool. There are also some smaller swimming pools - probably for a person that's even keener on swimming than me who can´t move from the water for more than 50 metres.
Here, in the shadowy backyard, you can also relax in a hammock with your favourite book. A yard or a patio is an important part of Mexican haciendas - just like riads in Morocco they are surrounded by high walls to separate it from the outside. Concerning riads, it is believed that this kind of architecture (no windows to the outside) should help project your attention to your inside instead of being distracted by the outside - a design lifehack for meditation and contemplation. Thinking of too crowded and generally not very appealing streets of Marrakesh, we had another explanation for the popularity of this kind of architectural style.
Apart from the wedding celebrations, we stayed in Merida for some time. When we got an invitation to the wedding, we were excited. Having seen beautiful Mexican towns such as Guanajuato and San Miguel I imagined Merida to be even more stunning if it had been chosen for this special day. So we planned to stay almost a week there strolling through beautiful colonial streets. We'd booked a room in another hacienda – its friendly owner Leonor shared her home on Airbnb. But it turned out to be more pleasing to spend more time inside the hacienda than outside. We hung around Leonor's beautiful house not wanting to leave this paradise. You may feel the history looking at the family pictures and the old household utensils.
Some haciendas were turned into museums - Like the Dolores Olmedo Museum. Dolores Olmedo was а philanthropist and a friend of Frida Kahlo and Diego Rivera. Now, in the house she used to live there is an exhibition of a royal couple of Mexican art as well as temporary exhibitions. On weekends small concerts take place there as well. Apart from art and music, we simply loved the house itself with its old clay flower pots and stone ornaments on the doors, fences and benches.
What makes it so remarkable are the big peacocks walking around alongside the visitors.
Haciendas that take on the role of vineyards are quite successful. In 2007, I was in a Freixenet-owned hacienda in Queretaro. There you could walk in the vineyards, take part in a degustation, chill on the patio, take a look at how wine is produced and stored. I loved the story our guide told us about the wine production in the good old times: when wine was fermenting, the vineyard workers were singing and making music, so that the wine would absorb the good vibe. Should you prefer tequila to wine, head to Patron Hacienda in Jalisco.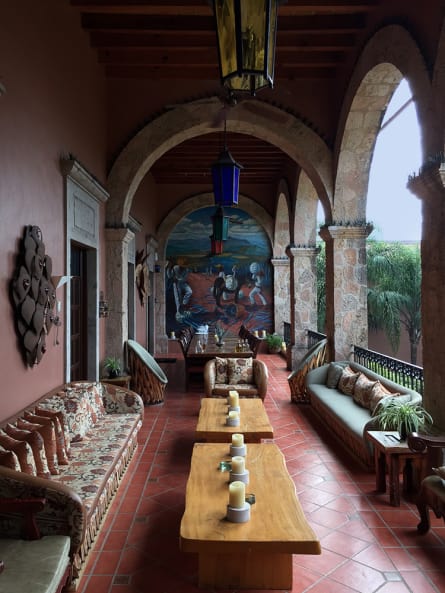 Want to stay in an hacienda on your next trip to to Latin & South America for free? Here is what you may do: 'housesit' a hacienda!