A story how we went to Ethiopia, searching for ancient Orthodox Christian rock-hewn churches and spiritual experience, but the only Biblical experience we had was being stoned.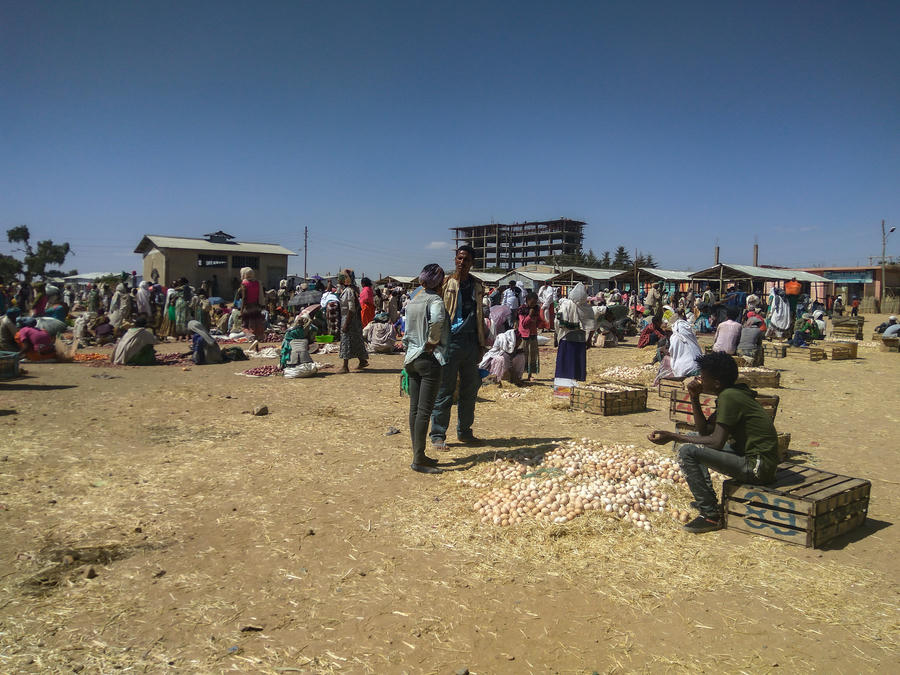 In the Heart of Darkness
An old Lada Taxi took us from the airport to the bus terminal. It was 4 am and quite chilly. Don't expect Ethiopia to be hot just because it is Africa and the hottest spot on the Earth – the Dankai Depression - is located here. A vast part of the country are highlands and mountains, so naturally, it gets really cold at night.
A dozen of people wrapped in their blankets were waiting in front of the closed gates of the bus terminal. Some of them were sitting in silence, surrounded by their sacks, a couple of them were drunk and loud. Some were buying warm tea from an improvised tea booth – a seller sitting on a tiny chair in front of a cattle pot on hot coals. The small tea cup was not washed but just filled again with a new portion of tea.
An hour later, when the gates were finally opened, a large crowd flooded into the dusty field which is the bus terminal. And even though we wanted to take a bus to one of the bigger towns, we tried hard to find a bus heading there. First, all the buses standing in rows were titled in Ahramic and their drivers happened to speak no English at all. Even speaking loud the name of the town where we wanted to go to didn't bring any positive results – probably, we pronounced it in some weird way and locals didn't understand it. From time to time, one of the buses turned the lights on drove out from its parking lot, filled up promptly and left the gate of the bus terminal, leaving us behind.
But finally, we had luck. Somehow got into the van and let our backpacks be fixed on its roof. There were slightly more people in the bus as originally intended by the manufacturer. There were 4 of us on the 3 back seats. In front of me, there was another person sitting on a tiny chair, preventing me from stretching my legs.
The sun was already high up in the sky, however, it was still a bit cold. A cold wind was getting inside of the van through the window that could not be locked shut anymore. Every once in a while, I closed it, and then, hitting another pothole and shaking, it started to crawl open again. When heat came up, it was not bothering me anymore, and even brought a pleasing relief.
Tigrai
Some 16 hours later, we were in Tigrai region. What interested us there, were ancient churches and monasteries.
Christianity was adopted as the state religion as early as the 4th century in Ethiopia. There are some rock-hewn churches with frescoes dating back to these early times, a great many of them in Tigrai region. Churches and monasteries are often located in hardly reachable places. Sometimes, to see a church, one has to climb onto a vertical rock – and these churches still have their faithful parish.
Ethiopia is a highly religious country with 78% of population going weekly to church and 98% claiming religion is very important in their lives. In the Christian parts of the country, you are likely to see people with crosses tattooed on their forehead and to hear the church services transmitted from loud speakers of the town churches.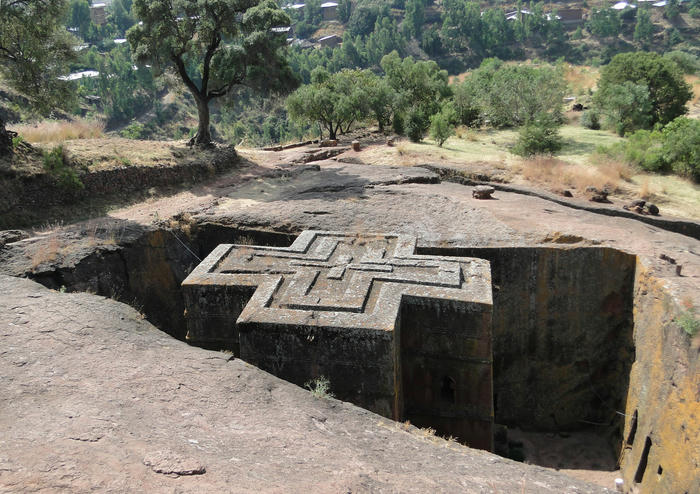 As Ethiopia is still not overrun by mass tourism, and a number tourists in Ethiopian shrines is not even close to that in Vatican, we expected local priests to be happy to share God's grace with the rare foreign visitors interested in churches and Ethiopian Orthodoxy, and we expected a trip to Tigrai to be a remarkable spiritual experience. But jokes beside, I imagined our pilgrimage to be like this: Old monks and ladies in their hand embroided dresses greet us, show us the frescoes, invite us to share a dinner with the community and even though we can't speak the same language (maybe there will be one person who actually speaks English and he will translate our conversations with the community) we will have a great time together, leave the churches filled with happiness and inner peace, willing to share it with the rest of the world. That was actually our experience with visiting Orthodox churches and monasteries in Macedonia and Greece.
The reality looked quite different. The only Biblical experience we had was being stoned. But OK, one thing at a time.
First Attempt. Teka Tesfai
We went to Teka Tesfai, a region lying to the north from the Tigray capital Mekele, and immediately after we got off the bus, we were surrounded by a group of boys. They suggested that they can call a priest who will open the door of the nearest Petros and Paulos Melehayzenghi church and this service would cost us 8 dollars. That's what the priest would charge us, the service of fetching the priest would cost us extra. Frankly speaking, we were sure that the boys were pranking us: A thought that a priest of this highly spiritual country would be ready to open the gates of the house of God not for the seekers, but for 8$ didn't seem to be realistic. For it is said: knock, and it will be opened to you without any mention of entrance fees. So we just ignored the kind offers of the kids continued our way to the church thinking we will find out what the place is like and what we should do on the spot.
We found the church closed and no information about the working hours etc. The kids' story about fetching the priest seemed more realistic by then. The loud company of kids that followed us to the church grew up like an avalanche. Until we got to the church, they were not only chatting about money nonstop but also trying to take the initiative by opening our backpacks and taking a deposit. Such conduct of the young generation discouraged us from giving them any assignments at all. We decided not to try seeing the church from inside – in the end, we were more interested in meeting people rather than in the old icons - and set down at a church wall to enjoy the view and wait for the kids to leave us. Sometime later, some grown-up local man approached us and said that he didn't want to have us there if we were not about to pay him. So we continued our walk followed by a troop of kids that was growing even bigger and louder – we must have reeled in all the kids from all the surrounding villages.
At some point they seemed to lose the hope of getting anything from us – and it turned out to be even worth than when they still hadn't. They grabbed small stones from the ground and chased us throwing those stones at us. We hurried up and decided to run uphill – in that way, the stones were less likely to reach us. Had we walked down, their stones would have reached even farther. Soon, we left the angry kids behind. On the top of the hill, there turned out to be the church of Mikael Melehayzenghi.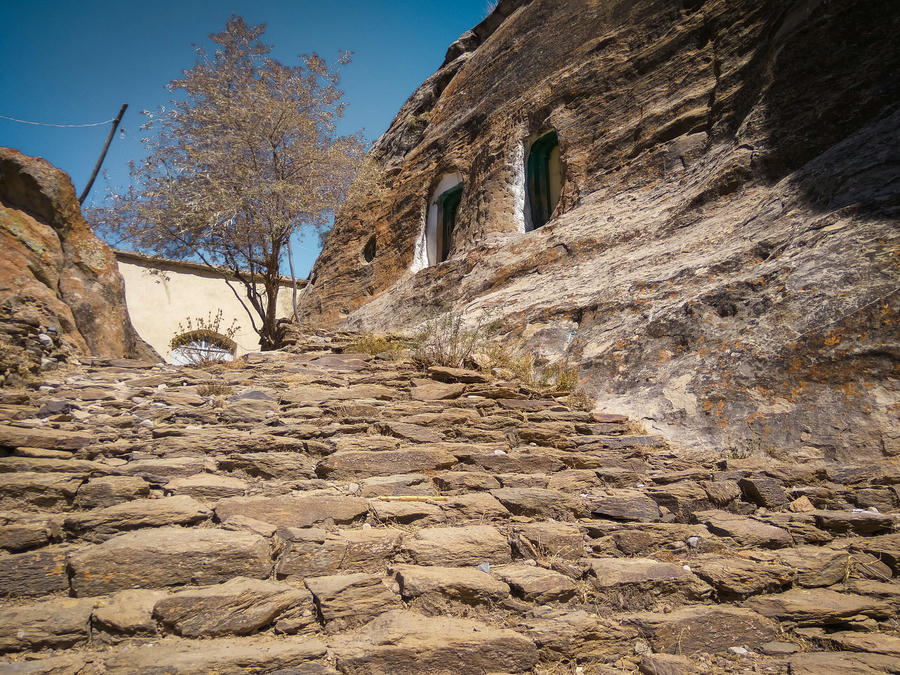 We spent a lovely day in a backyard of this white-washed church. From the hill it was located on, we had a great view over the valley. We were reluctant to leave our fantastic refuge and confront the kids' gang, so we skipped the third and supposedly the most beautiful church Medhani Alem Adi Kasho. Shortly before it got dark, we completed the final exercise of getting to the main road and catching a bus that would bring us back to town.
Regrouping. Mekele
At the town, we were left to ourselves, more or less. This is an advantage of the urban life everywhere – maybe you would grab smb's attention shortly, but the next minute or two, town flâneurs would lose you out of their sight. We really enjoyed sitting in cafés on the tiny chairs sipping avocado and mango smoothies or having a fruit salad. There are plenty of fruit cafés in the town and people spend hours there chatting over a bowl with cut mangoes, bananas, strawberries poured with honey. A fruit café is also a healthy replacement of the traditional bars. In Ethiopia, you could also go to a yogurt and milk bar for a cup of home made yogurt or a cup of fresh milk. They usually serve it with ground Teff. Nothing compares to a cup of freshly brewed coffee made by the café under a big acacia tree on the Selam Street. A nasty smell from the still green beans being roasted mixed with the burning incense, and with a mouth-watering smell of grounded beans. Waiting for our tiny cups of coffee to come, we loved watching people. Old men in skirts, shoe cleaners, priests in their beautiful gowns with stitched crosses.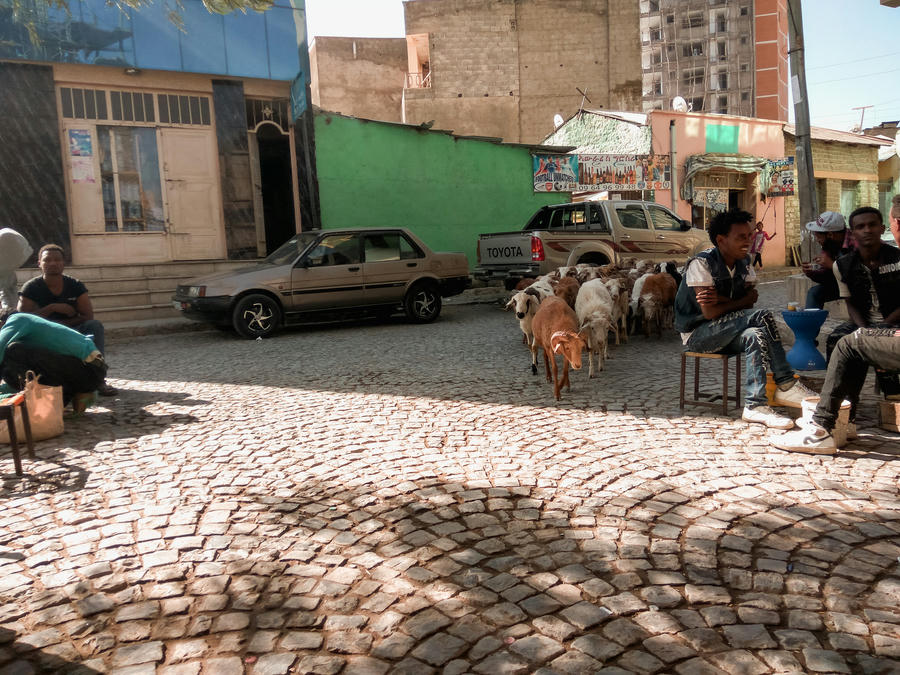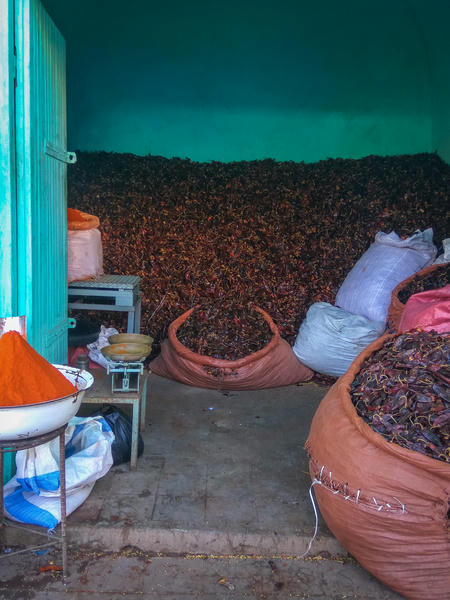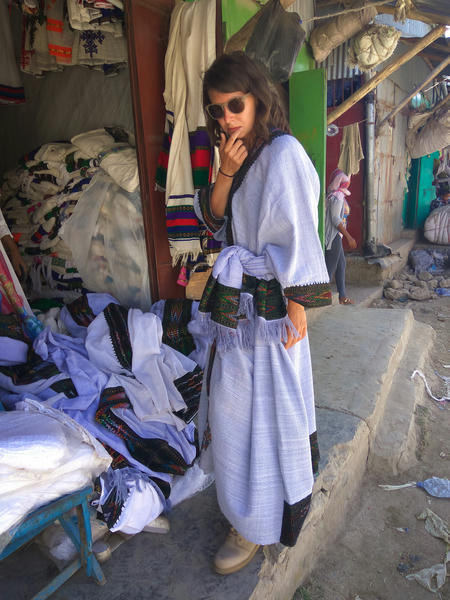 To some extent, we even preferred our laid-back days in Mekele to the excursions to the countryside, even though the town was kind of unspectacular (to say the least) in terms of architecture and the countryside of Mekele was captivating. After the incident in Teka Tesfai, we decided against visiting churches, we were happy just to trek the beautiful valleys of Tigrai. But every time we caught a bus to the countryside, the story repeated itself: we were enjoying the track until the moment we were discovered by a kid who didn`t leave us even for a second until we jumped on a bus back. The elder kids proclaimed themselves to be local guides and demanded payment for their services, the smaller ones were just begging for money and pens. "You, you", "give me birr" – birr is the local currency - or "you you, where are you go, I am a local guide" were some ear worms that kept playing in our heads even some time after we had left Ethiopia.
Ascent. Abuna Yemata Guh
Of all the parts of Tigrai, Geralta is said to be the most scenic region and even though the churches of Geralta are not the oldest and their frescoes are not the most stunning ones in the country, their scenic location makes up for everything else. To hike the valleys of Geralta, we stayed in the small town of Hawzen for a couple of nights. The first day, we took a taxi to the Megab junction. The road leading to the churches Debre Mariam Kokor and Debre Daniel Kokor was sure to be busy, so we drove further up the raod to the west and headed to a hill. To our relief, there were no sign of any locals there. Carefully, we continued our track up the hill, anticipating the fantastic view over the valley and a cliff with the churches. And it was incredible indeed!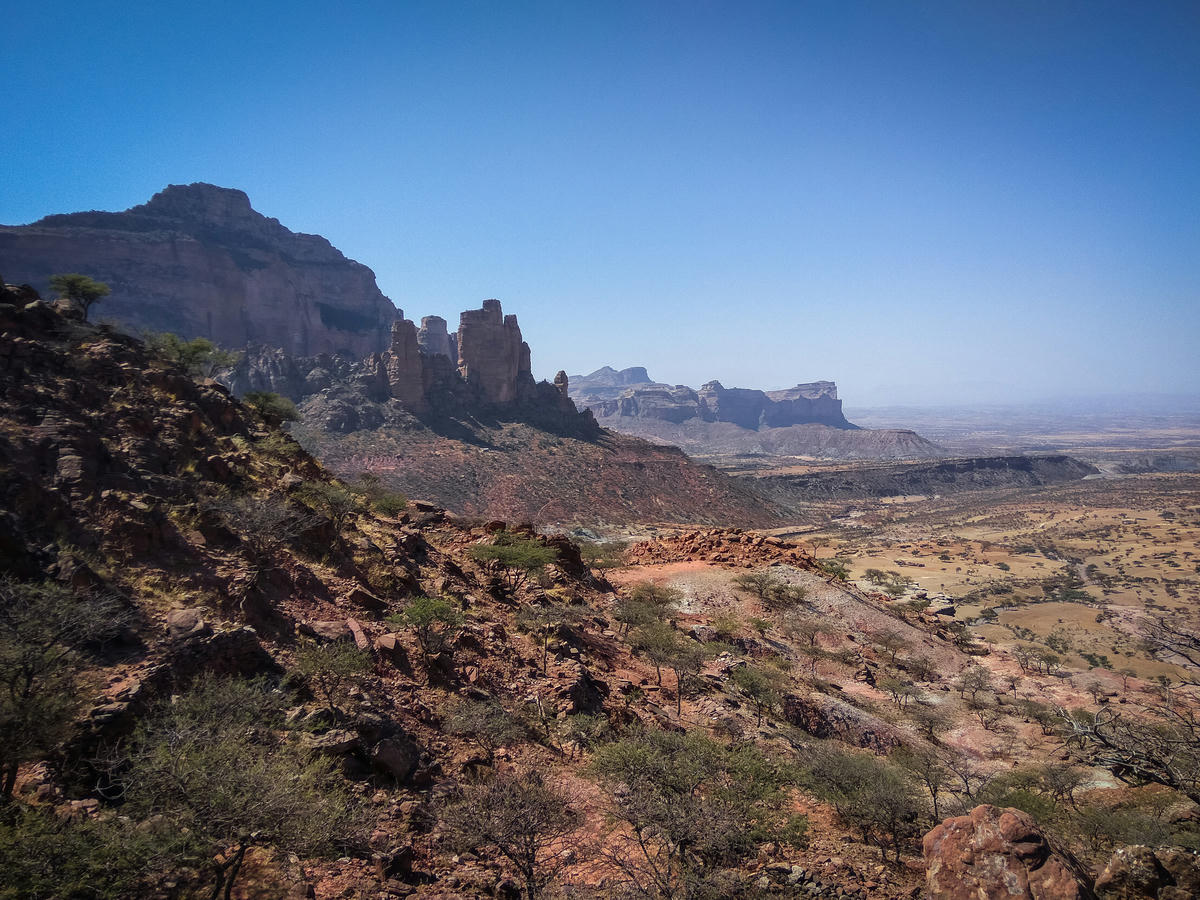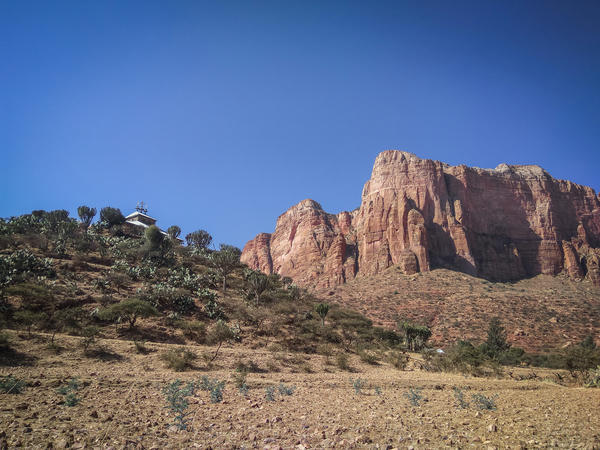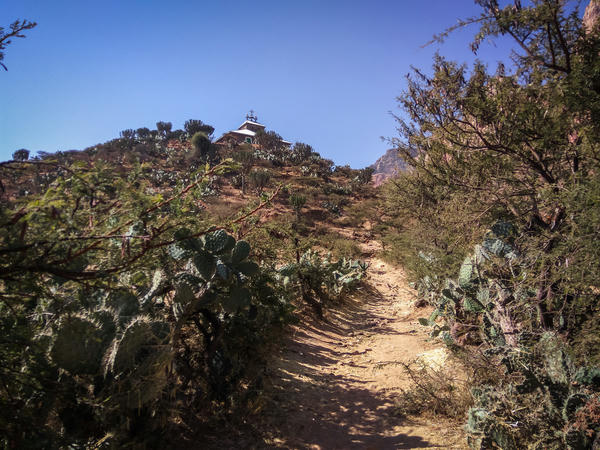 The next day, we wanted to check the spectacular track to the most famous church of Abuna Yemata Guh. The views from the difficult trail promised to be one of the world wonders, but the trail itself was said to be extremely difficult. I have a fear of heights, I was not sure I could walk the entire trail. As true introverts, we tried to secure our privacy on the track once again. The trail to Abuna Yemata lies through a village, and in order to escape it, Balti suggested that we should take a detour around it on the bottom of a dried river that was well hidden from the views beyond the plateau. At some point we had to get up from the river canyon and cross, unprotected from sight, a piece of land to reach the cliff Abuna Yemata is located on. And it all worked really well, we were not discovered!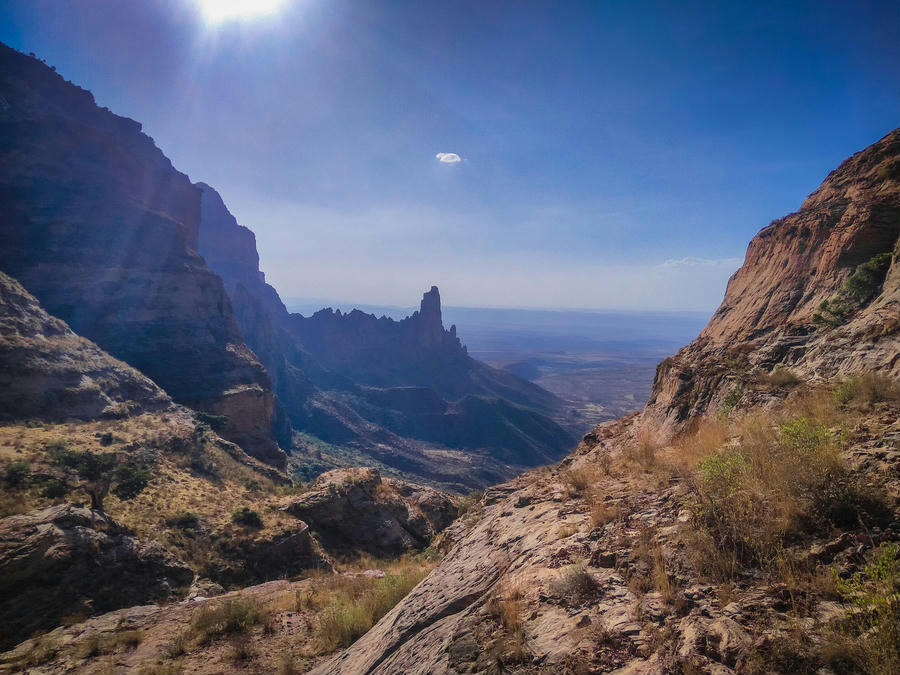 However, as I feared, the trail winding up the rocks was too steep for me and I had to turn back soon. Still, the views from the cliff but also the adventure of going off the beaten path was absolutely worthy of our attempt. But the real danger encountered us on the way back from the Abuna Yemata trail – a huge black dog attacked us. In this part of the world, kids and grown-ups throw small stones at the dogs to keep them away – maybe being stoned makes dogs so angry and violent in their tern. Help arrived shortly – we were saved by a woman who had to be the owner of this Monster of the Baskervilles. She invited us for a coffee, and there was something in her pleasant and quiet manner that urged us to accept her invitation.
Safe Zone. Coffee
She was living in a small house made of stone and clay surrounded by a stone fence. Inside, there were some chicken and a donkey. The house itself, consisted of just of one room of maybe 10-25sqm, five people were living in it – the woman and her 4 daughters. Two of them were present at that moment. The kitchen utensils were hanging on the wall and we were sitting on a clay bench that also served as a bed if we got it right.
For the coffee ceremony, a fire was made on the floor of the hut. The coffee beans were roasted on coals and to reduce its smell, a branch of a rosemary-like plant was thrown in the fire. The roasted beans were placed in a long tube and ground with a stick. The coffee powder was poured over with boiling water from a cattle, and then coffee was poured into tiny cups.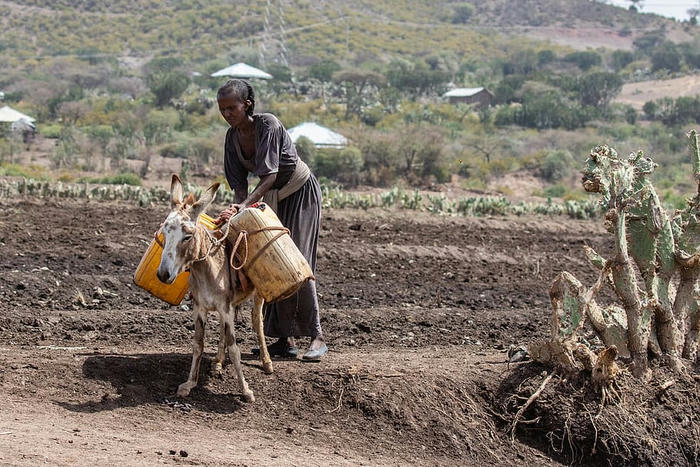 We didn`t want to lose the opportunity to be of any use for the family and asked them to pay for our coffee. We paid the price of a cappuccino in Europe or US – we didn`t want to pay less for sure, but we were also afraid to pay too much not to give an impression than money doesn't matter to foreigners.
We were asking ourselves why the locals didn't have any gift shops or cafés in the villages near the churches – I am sure random visitors would be likely to leave their money there and support the communities. We would have also eagerly left a donation to the churches, had we managed to visited one. Self-assigned guides, begging kids and enormous entrance prices (e.g. Lalibela entrance is 50$ - that even exceeded Angkor Wat) may be doing more harm than good to the local economy and heritage preservation.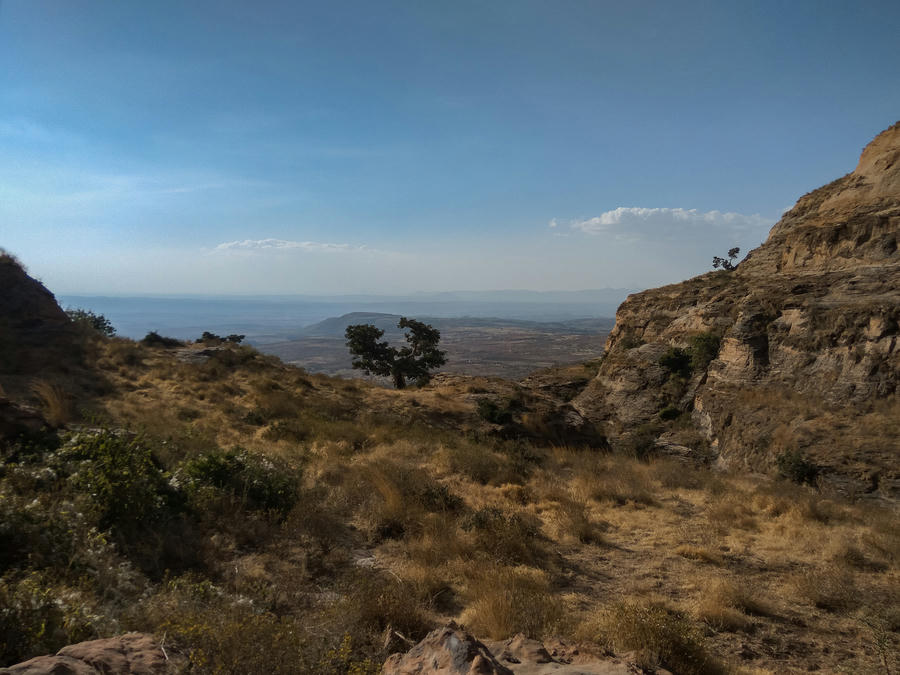 Afterword
Still, a coffee with the family was rather an exception to our time in Tigrai. Travelling Ethiopia was more about struggle and survival. You have to be vigilant, to be alert 24/7. People who travelled Ethiopia feel they have something in common. On a wedding in Mexico or at a film festival in Berlin, when I heard the word "Ethiopia", I immediately twisted my head to the speaker. For the next hour(s) we were sure to compare our Ethiopian experiences. Somebody hiked Abuna Yemata trail till the top, somebody spent a week in a Rastafarian community in Shashamane. Somebody lost his wallet while travelling the country and hitchhiked to Addis-Abeba. He originally believed it was a 'mission impossible' as free services for foreigners simply don't exist here but somehow he did it – people helped him. Somebody was stoned while riding a slow train (kids were throwing stones through a window), somebody was contacted by a hotel maid who wanted to sell him her daughter. Ethiopia just blows your mind and makes you reevaluate what you thought to be common knowledge and values.
Ethiopia is a destination for either advanced backpackers, or somebody who achieved self-transcendence, or conceptual thinkers who recognized alongside Heidegger that there is no such thing as universal humanism. Ethiopia definitely has its own values and norms that are based on a number of conditions specific to this part of our world.
Going to Ethiopia may also be a pleasant experience for travelers who would stay in a boutique hotel and visit the sights of interest with a knowledgeable and protective guide – that would prevent or smooth all the occurrences that may be disturbing.