We leave the Croatian coast and go further inland heading to Plitvice Lakes National park. But what we see there makes us change our plans...
The day started on the top of a hill with a stunning view over the Adriatic Sea and nearby islands. The day before we had taken a very steep unpaved road up into the mountains that stretched out along the coast since the beach had looked as though it was densely occupied by houses, hotels and other structures. It turned out that finding an ideal isolated place in Croatia is not that hard if you travel in a 4x4!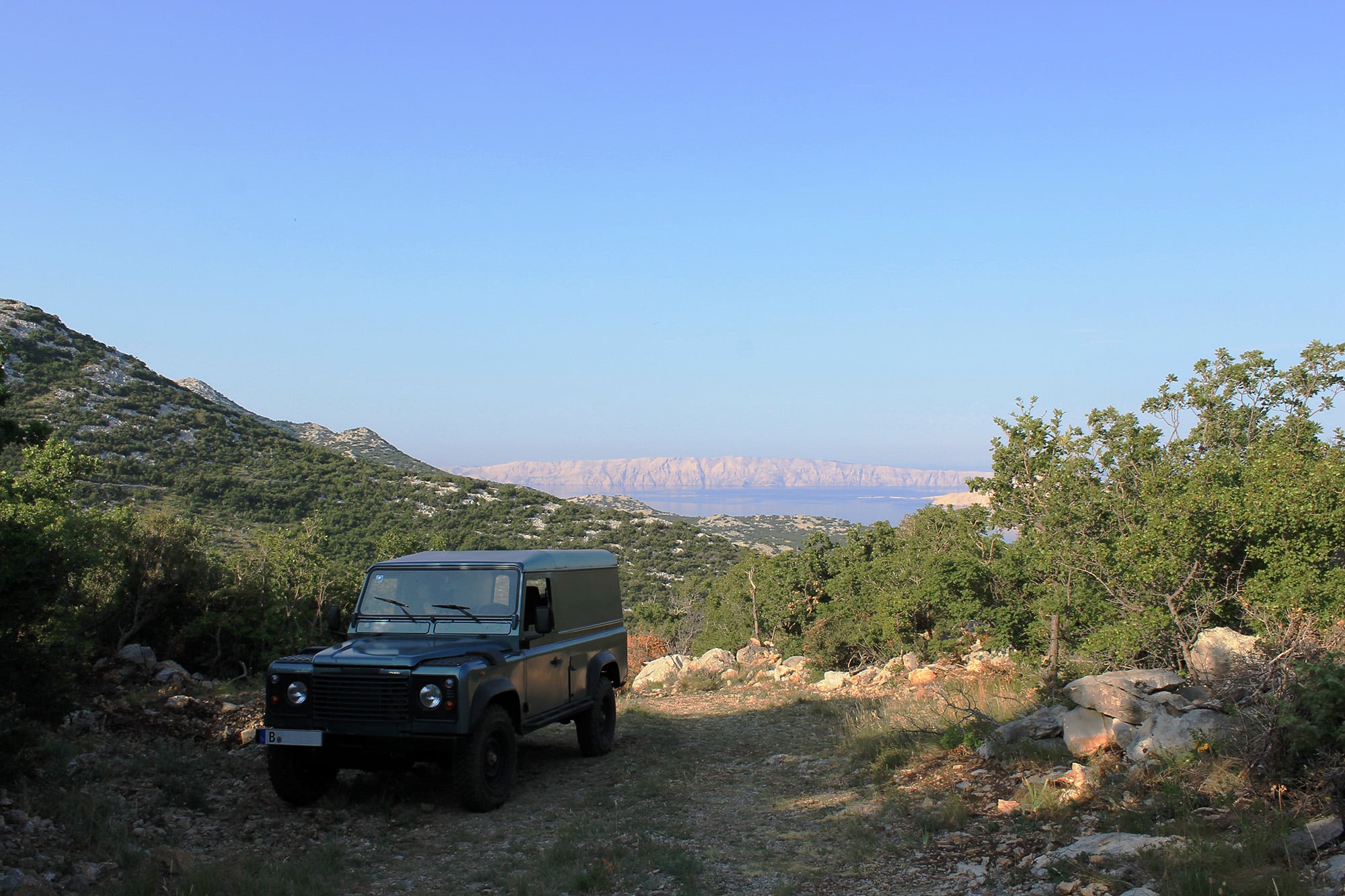 On that day we followed a small road which zigzagged through the mountains which eventually led us to Plitvice Lakes National park: The place is on the top of every 'must see' list in the Balkans, a UNESCO heritage site and so on and so forth. On our way there we passed some very post-communism looking abandoned towns and bus stops. However, the big tourist industry of Croatia hit us in the National Park itself. Dozens of hotels not far from the park entrance, dozens of huge tour buses, queues of cars to the huge parking lots, an endless line waiting to buy entrance tickets to the park. Our enthusiasm to see the lakes diminished in direct proportion to the herds of tourists we saw at the entrance of the park. We started on our way back to the coast and would have ended it there today, had our truck not lit the oil pressure warning light (which did show due to high temperatures and having a rather thin oil) which made us search for a nearby gas station to look for a thicker one. At the gas station, I spotted an ad for horseback riding (Konjicki klub Rakovica).
Riding appeared like a great idea for two reasons – as a way of doing something that's fun so that we didn't drive the whole way for nothing and Balti needed a pause for our truck to cool down so that the oil could be topped up properly. But apart from the logical arguments – I just love horses and riding near Plitvice seemed like it would be a delightful experience.
We had never ridden through such an overgrown forest in meter-high ferns
– and would probably have little chance to do any time it soon. Off-road riding was the perfect supplement for off-road driving.
The horses were well trained and motivated. The saddles didn´t cause any problems.
What we didn't expect is that the owner of the stables, Dubravko, invited us to join him for a barbecue and to stay at his place for the night. What I loved about his place was the sitting area outdoors, surrounded by corrals on two sides. From time to time the horses walked to the corral and looked at us. Dubravko said, he would build another house for rent on the premise of his ranch – I guess I can already recommend the new house as well without ever having seen it.
Dear reader,
it is you who keeps our site running and helps us grow and bring you more stories from our trips and the local people we encounter. We believe that telling these stories brings the world closer together and is hence a way to make a positive change! Please support us with a small donation on the kofi platform. Even a small contribution makes a big difference!