Kiev has a laid-back vibe which I suppose is a nice for a big busy city - there is lots of parks and benches to chill out, the large churchyards and monasteries also help create some quiet places. We spent a week in Kiev and certainly enjoyed our time! Now, we compiled a list of our favourite places and experiences that may help you plan your stay in Kiev and not to miss the best of it!
Our tops in Kiev:

1. Tatar food Since Crimea was occupied by Russia a big part of the Tatar community left Crimea for Kiev. As a result, some good Tatar eateries opened here. Do not miss Musafir (Khmelnitskogo str.). Apart from great food the ethnic minimalistic design is also appealing and the price is hard to beat – we paid 20 EUR for a dinner that consisted of starters, a main course and dessert for two people.
For an international menu and the best brunch head to Milk Bar – An American owned café at the Shota Rustaveli street 16. Even though the place looked very hipster-styled its visitors were mixed.
Balti's culinary pick: I love cookies and therefore I love Ukraine – cookies here are fantastic and compared to Germany they are jaw-droppingly cheap – more than once I hoarded a kilo of cookies and I never once grew tired of them!
2. Pirogovo Open Air Museum of Architecture It is a great place to spend a day strolling through old Ukrainian houses, churches and mills. Here they have placed old wooden houses, mills and churches from all parts of the country after dismantling them. There is a similar museum in Russia on Kizhi – we prefer the Kiev Museum: it is bigger, not that overrun and cheaper – just a symbolic ticket price in comparison to the 60 - 70 Euro you will need to pay to go to Kizhi. You may also visit Pirogovo on your own, while on Kizhi, you get divided into groups and assigned to a guide once you leave the boat. Besides, Pirogovo is more cosmopolitan and friendly.
3. Rybalskiy Peninsular – time warped and absurd Situated close to the city centre, this place still managed to resist the rhythm of the big city and preserved the ambience of the 1980th and 1990th. Most of the Peninsular is taken by a shipyard called "Lenin's Forge". In the small local shops, you are likely to be attended by ladies in their 50ies wearing heavy make-up. A military base named "The Speedboats of the Marine Border Guard of the Land of Zhytomir" is located on the peninsula as well. This makes me wonder: neither Kiev nor the Land of Zhytomir has any access to the sea.
4. Honey fair in Kievo-Pecherskaya Lavra Ukraine is the right place to go honey-shopping. And August is the right time for it. On the 14th of August there is a religious feast bound in some way to the poppy and honey harvesting and from the middle to the end of August honey fairs take place all over Ukraine. We went to the one in the old monastery Lavra to combine sightseeing and foodtravel).
(A tip: to avoid paying the entrance fee, use the second entrance to Lavra further down the Lavrska Street, by the Ukrainian State Museum of the Great Patriotic War. Getting in there you still have access to the biggest part of the Lavra, only a smaller part would be closed. Even then you may visit it for free if you get there early on a Sunday morning – until around 10 am.)
5. Subway stations Kiev, of course, is a huge city and you can walk around forever so that's what we were doing the week spent in Kiev. Connecting the dots on the map is the imposing underground train. The tunnels are so deep you almost expect to find some Mithril… its central stations could also have been carved out of stone by mythical artisans. The trains themselves, however, are a bit of a letdown.

We prefer staying at private homes rather than at hotels while travelling. Have you already heard of HOME AWAY? They have lower commission rates than Airbnb!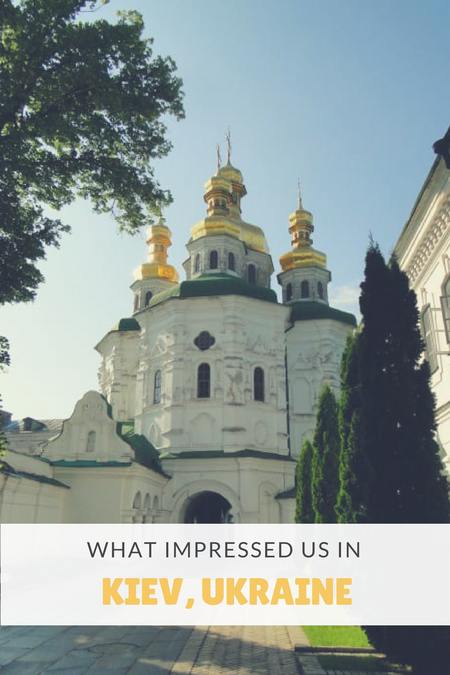 Dear reader,
it is you who keeps our site running and helps us grow and bring you more stories from our trips and the local people we encounter. We believe that telling these stories brings the world closer together and is hence a way to make a positive change! Please support us with a small donation on the kofi platform. Even a small contribution makes a big difference!