The Hagia Sophia, Bosporus and the Golden Bridge. Bazaars and baths. However, there are some other great things not to miss - or not to oversee - in Istanbul I was not aware of until I came to this amazing city and joined in its whirling life.
1) Old wooden mansions. It feels as though Orhan Pamuk's Istanbul is still alive. Before coming to Istanbul; I thought they exist just on the pages of my favourite books by Pamuk ( Nobel Prize laureate in Literature). In case you are going to Istanbul / or you are in love with this magic city Pamuk's , is a must. This book is a captivating documentary of Istanbul at a breakpoint of tradition and modernity.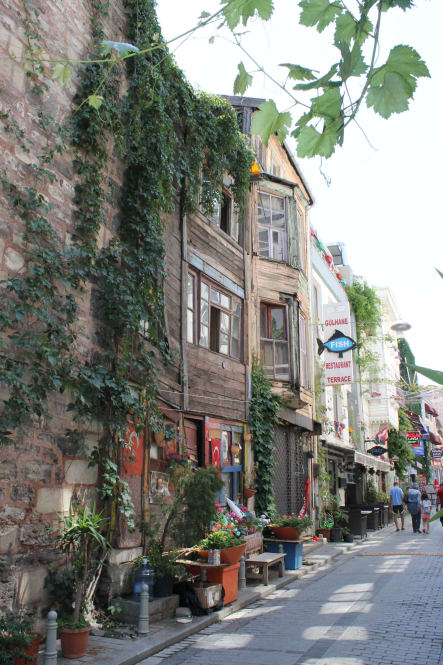 2) Street cats. Strolling through the streets of the old center, lying on the books of the bookshops, hunting for fish at the fish markets - cats seem to be equal owners of Istanbul. According to a legend, a cat saved Sultan Mohammed from a snake and since then a special tribute is paid to the city's cats. There is a good documentary about the street cats of Istanbul: . Watch it if you would like to see the city through the eyes of the cats! Apart from introducing some of the furry dwellers of the city, the movie also tells the stories of the people who love the street cats and care for them - absolutely recommended :)

3) Istanbul has a great street art and graffiti scene. In fact, it is so established that the city's street art has already become another business card of this modern capital - just like in London or Rio de Janeiro. Try to visit a MURAL Istanbul Festival if you happen to be in Istanbul in July.
4) Local artisans. Represented by a wide range - form the traditional shops to the hipster-looking ones in Beyoğlu. The kilim cushions shops in the bazaar area were my favourite!

5) Pastry!!! Pistachio Baklava with Honey, Goat Milk Ice Cream, Milk Shakes, Just look at it! We left all our money at a pastry shop called Mado and gained a couple of pounds.
6) Eveningness chronotype. Plunge yourself into the night life of the city! - Istanbul is the city of the owls. In our hotel, they didn't even serve breakfast until 8:00. At the reception, we found a sheet of paper with the request to let the staff know if an early checkout – before 8:00 – is required.
7) The village of Bebek located on the European shore of the Bosporus is a great weekend getaway from the busy city. The locals head there for a brunch and the best walks along sea promenade. The place surely boasts the best views of the Bosporus!